Ambassadors laud China-Cuba relations, expect further development
Updated: 2014-07-21 20:34
(Xinhua)
Comments
Print
Mail
Large
Medium
Small
HAVANA/BEIJING - The China-Cuba relationship is at its best in history and Chinese President Xi Jinping's upcoming visit to Cuba will open a new phase in bilateral ties, Chinese and Cuban ambassadors say.
China-Cuba interaction has become a paradigm of solidarity and cooperation among developing countries and a pioneer in the development of China-Latin America relations, Chinese Ambassador to Cuba Zhang Tuo said in a recent interview with Xinhua.
Calling China and Cuba "good friends, comrades and brothers," Zhang said the two countries have enjoyed high-level political relations.
Zhang added that during his term as ambassador to Cuba, he has witnessed important high-level exchanges every year, including the visits to China by Cuban leader Raul Castro and First Vice President Miguel Diaz-Canel.
Xi's visit will play an extremely important role in leading and promoting the development of bilateral relations, he said.
The ambassador said China and Cuba have enhanced mutual political trust, strengthened cooperation, and deepened exchanges of experience in state governance.
Besides, the two countries, with similar views on many important international issues, have closely coordinated with each other on important diplomatic issues, and supported each other on issues concerning their core interests, he said.
China and Cuba have witnessed relatively rapid development in economic and trade relations in recent years, with steady growth in bilateral trade and mutual complementarity, he added.
He said more and more Chinese capital, technology and equipment have entered the Cuban market, and many Chinese entrepreneurs have showed a great interest in investing in Cuba since a new investment law was enacted in Cuba earlier this year.
On people-to-people and cultural exchanges, there have been quite many highlights of cooperation between the two countries in such fields as art, culture, education and tourism, he said, adding that cooperation is also deepening in press, publications and other areas.
The Chinese culture has attracted an increasing number of Cubans and cultural products with Cuban features have become a new fashion among Chinese people, the senior diplomat said.
Furthermore, he said the two countries have yielded tangible fruits in education cooperation, adding that more than 3,000 Chinese students have studied in Cuba on government sponsorships in recent years alone, and that they have actually become China's largest group of overseas students in Latin America.
Both China and Cuba are expecting Xi's visit to translate the two countries' good political relations into fruitful achievements in practical cooperation, so as to lift bilateral friendly cooperation in various fields onto new levels, Zhang said.
Cuban Ambassador to China Alberto Jesus Blanco Silva has also voiced his hope that Xi's visit will usher in a new phase in the all-round development of Cuba-China relations.
"It is Xi's first state visit to Cuba since he took office, and the visit offers an extremely good opportunity for the two sides to fully tap cooperation potential and lay out plans for the mid-term development of bilateral ties," Blanco Silva told Xinhua in a recent interview.
Trade and economic relations between China and Cuba have seen a sound growth momentum in recent years, he said, adding that Cuba is China's largest trade partner in the Caribbean region, while China has been the second largest trade partner of Cuba since 2005.
He hailed the development of bilateral cooperation in such areas as biological technology and agriculture.
The ambassador also spoke positively of China's relations with Latin America and the Caribbean, saying the relations are based upon the principles of respect and mutual benefit as well as China's genuine aspirations for the realization of unity and integration in the region.
"The global economic crisis offers opportunities for China and Latin America as well as the Caribbean region to carry out financial cooperation in a bid to promote sustainable development, " Blanco Silva said.
He called on the two countries to work together to cope with common challenges.
"As Cuba has already fully integrated into the big family of Latin America, President Xi's visit will undoubtedly become a new milestone for China's increasingly close relations with both Cuba and Latin America," he said.
Background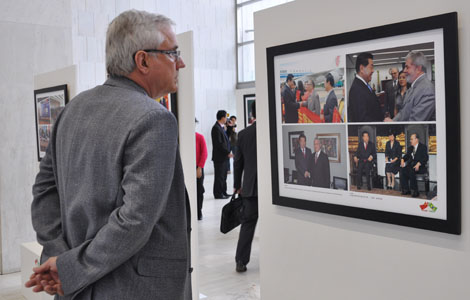 Feature