Chinese, Cuban leaders pledge staunch friendship, reciprocal cooperation
Updated: 2014-07-23 14:08
(Xinhua)
Comments
Print
Mail
Large
Medium
Small
HAVANA - Visiting Chinese President Xi Jinping and Cuban leader Raul Castro pledged here Tuesday that the two countries will be long-term, staunch friends and partners for reciprocal cooperation.
"We will resolutely deepen our friendship and treat each other with all sincerity, carry out mutually beneficial cooperation and forge our partnership in reform and development," Xi said during talks with Castro, president of Cuba's Council of State and the Council of Ministers.
"China cherishes the traditional friendship between the two nations. No matter how the international situation changes, it will be a set policy of China to develop a long-term friendship with Cuba," Xi noted.
Since China and Cuba forged diplomatic ties 54 years ago, the two sides have been striving for a common goal, adhering to the same causes and beliefs, helping each other and sharing weal and woe as they built up socialism, Xi said.
The two sides have carried out cooperation and promoted common development on the basis of sincerity, mutual respect, equality and mutual benefit, he said, adding that they have conformed to the trend and kept abreast with the times to inject new impetus into the development of ties.
Xi pointed out that the socialist path with Chinese characteristics is consistent with the historical tide and wins the support of the people.
"We will walk along this broad road unswervingly," he stressed.
China firmly supports Cuba's pursuit of socialist path, its just fight for safeguarding national sovereignty, and its adjustment of economic and social policies, Xi said, pledging continued aid to Cuba within China's capabilities.
The Chinese side is willing to maintain high-level contacts with Cuba, increase inter-party exchanges, and work for more frequent multi-tiered dialogues and consultations, he said.
Xi called for continued mutual support on issues related to the two sides' core interests and major concern, enhanced communication in state governance and socialist construction, and mutual learning and backing during their respective reform processes.
For his part, Castro recalled his previous visits to China, saying bilateral relations are at the best moment in history with cooperation having been expanded to various areas.
He believed that China, a great nation, will surely achieve the success of socialist cause with Chinese characteristics under the leadership of the Communist Party of China.
China's development will surely make greater contributions to boosting world peace and human progress, he added.
The Cuban side was grateful that China provided consistent staunch support and spoke up boldly for Cuba in defense of justice, Castro said.
Cuba resolutely supports China's efforts in safeguarding national sovereignty, security and territorial integrity, and is willing to strengthen contacts with China on various levels, compare notes on socialist construction and learn from each other in this regard, he said.
Background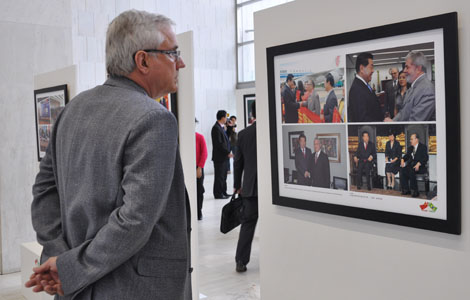 Feature