Xi proposes closer, more solid BRICS partnership
Updated: 2014-07-16 14:44
(Xinhua)
Comments
Print
Mail
Large
Medium
Small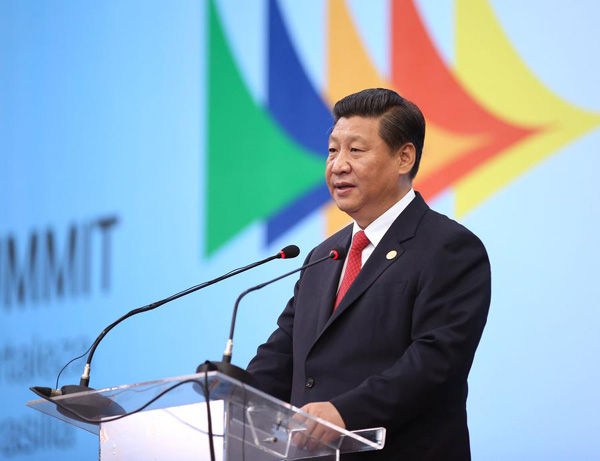 Chinese President Xi Jinping gives a speech at the sixth BRICS summit in Fortaleza, Brazil, July 15, 2014. [Photo/Xinhua]
FORTALEZA - Chinese President Xi Jinping on Tuesday proposed a closer and more solid partnership among BRICS countries, as he delivered a speech at the sixth BRICS summit held here.
Besides Xi, Brazilian President Dilma Rousseff, Russian President Vladimir Putin, Indian Prime Minister Narendra Modi and South African President Jacob Zuma also attended the summit held under the theme of "Inclusive growth: sustainable solutions."
In his speech, Xi summed up the BRICS countries' cooperation experiences and charted out the direction for future cooperation.
China will continue participating in BRICS cooperation and make greater contribution in safeguarding world peace and promoting common development, he said.
Xi stressed that BRICS countries, which express themselves concertedly and contribute their share to solving many major international and regional issues, are committed to boosting world economic growth, improving global economic governance and promoting the democratization of international relations.
They have become an important force in international relations and an active constructor of the international system, he said.
According to Xi, BRICS countries should carry forward the spirit of openness, inclusiveness and win-win cooperation, and develop a closer, more comprehensive and more solid partnership.
He urged to unswervingly push forward sustainable economic growth, adhere to inclusive growth, turn quantitive growth into qualitative growth, and coordinate economic development, social development and environmental protection.
He called for launching all-round economic cooperation, building an integrated market in trade and investment areas, promoting people-to-people exchanges among different countries, and realizing in an early date the operation of the BRICS development bank and a contingent reserve arrangement.
Xi also stressed the importance of building a favorable external environment for development, improving global economic governance, fully implementing the consensus of increasing developing countries' representativeness and right to say, and strengthening the coordination of global macro-economic policies.
The Chinese leader also proposed to boost BRICS countries' moral appeal to others, adding that BRICS countries should jointly provide solutions in international affairs, seek justice and practice equality.
"China's diplomacy has principles to act upon, cherishes friendship and righteousness, seeks justice and adheres to the path of peaceful development," Xi said.
China particularly treasures the cooperation between BRICS countries and puts it as a diplomatic priority, the Chinese president said.
When discussing with other leaders the topic of political coordination, Xi noted that BRICS nations should both be the anchor that helps stabilize the global economy and the shield that protect the peace of the international community.
The countries should associate their respective development with world peace and stability, consider collectively combating terrorism and safeguarding cyber security as the key area of cooperation, advocate a new security outlook, and join hands in safeguarding the system for international security cooperation with the United Nations as the core, Xi said.
On sustainable development and inclusive growth, he called on BRICS countries to consolidate the strong momentum of their development, and stay confident about their economic prospect.
"We need to adjust our economic structure, achieve development of better quality, build closer economic partnership, boost the building of an open world economy and establish a global development partnership," he said.
For her part, Brazilian President Rousseff pointed out that BRICS countries enjoy rich resources and are strong in agriculture.
Infrastructure construction in these countries keeps developing, while consumer markets there are huge, with promising prospect for development, she said.
BRICS nations should build a close and firm partnership, improve global governance, promote a multipolar world and boost the democratization of international relations, added the Brazilian leader.
Putin, for his part, urged BRICS nations to deepen pragmatic cooperation, upgrade the level of trade and investment, strengthen coordination in major international and regional issues, jointly face up to such global challenges as terrorism and cyber security.
The countries should boost the International Monetary Fund's quota reform, build a development agenda for the years after 2015, and reduce poverty, Indian Prime Minister Modi said.
He also called on BRICS countries to enhance people-to-people, educational and local exchanges.
Meanwhile, South Africa's Zuma said BRICS nations are willing to share experiences with developing countries, jointly advocate multilateralism, promote political solutions to regional hot issues, and support Africa's effort to achieve peace, security and development.
Background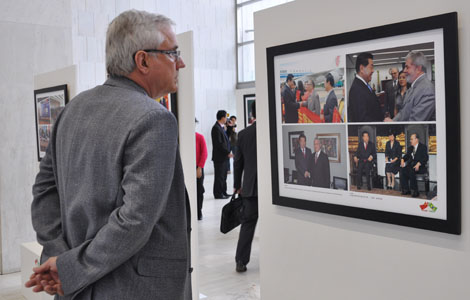 Feature