Optimism not cynicism drives BRICS development
Updated: 2014-07-15 20:14
(Xinhua)
Comments
Print
Mail
Large
Medium
Small
BEIJING - In contrast to the West's cynicism about the economic prospects of BRICS, China has nothing but confidence for over 40 percent of the world's population.
For five years, China has been maneuvering BRICS toward integrated markets; connectivity by land, air and sea; and greater cultural exchange. The group is becoming an important force in compensating for the shortcomings of current global governance and was crucial in dealing with the international financial crisis.
China understands the need for accelerated reform of the Western-controlled international financial system, long-term development and international democratization. That is why a development bank providing new financing channels for infrastructure construction is so important for BRICS and other emerging economies. The Contingency Reserve Arrangement will help BRICS cope with financial turmoil and bring some stability to the global financial system.
With the largest economy in the group, China is not necessarily destined to dominate. Instead, China advocates equal, open, win-win cooperation.
China is Brazil's largest trading partner; Brazil China's ninth. The two cooperate on energy, resources, manufacturing, finance and agriculture.
China and Russia have mutual interests in large strategic projects. Trade and investment need to be increased along with cooperation in energy, science, technology and cyber security.
China and India, as the two largest developing nations, have similar missions in social and economic development. China is ready to launch projects in industrial investment and infrastructure, and expand cooperation in services, investment and tourism, gradually balancing sustainable bilateral trade.
With South Africa, China's areas of interest are mineral resources, agriculture, infrastructure, rail and nuclear energy. There is also plenty of scope to share the Chinese experience of trans-national and trans-regional interconnectivity with Africa.
As the western media joyfully drums up the differences and disagreements between BRICS countries, it is this very diversity that can motivate rather than impede cooperation. BRICS is a new development model, one that is conducive to improving global economic governance.
BRICS, only formed in 2009, is still far from dominating global trade and investment, but nonetheless, combining emerging economies to the benefit of peoples from five countries contributes to democratic international relations. While the group grows into a force for a more just and democratic world, it deserves support and applause.
Background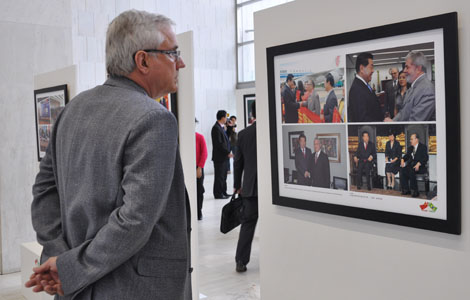 Feature