Xi's visit to Latin America to boost economic ties
Updated: 2014-07-15 01:14
(Xinhua)
Comments
Print
Mail
Large
Medium
Small
BEIJING - President Xi Jinping's second tour to Latin America will give economic ties between China and the region a strong boost, according to Chinese experts.
Xi will attend the sixth BRICS leaders' meeting on July 15 and 16. After that, Xi will pay state visits to Brazil, Argentina, Venezuela and Cuba from July 17 to 23.
In Brazil, Xi will also meet leaders of Latin American and Caribbean nations.
Building on momentum since Xi's maiden tour to the region as president last year, the upcoming trip is expected to be even more fruitful.
ROBUST TRADE AND EXCHANGE
Xi's visit from May 31 to June 6 of last year featured stops in Mexico, Costa Rica, and Trinidad and Tobago. The three nations are important for China's ties to the region, with Mexico being China's second-largest trading partner in Latin America.
The nations he will visit this time are no less significant.
Brazil is the first stop for Xi on this trip. Brazil has become the largest trade partner to China both in Latin America and among BRICS nations, while China has emerged as the largest trade partner to Brazil.Two-way trade exceeded 90 billion U.S. dollars last year.
In 2013, bilateral trade between China and Argentina hit 14.84 billion U.S. dollars, up nearly 100 percent from 2009.
The economic cooperation between China and Venezuela is also remarkable, with trade topping 19.24 billion U.S. dollars in 2013.
China and Cuba have had mutually beneficial and friendly relations, and China-Cuba ties have witnessed pragmatic cooperation in renewable energy and agriculture. Official statistics showed that trade between the two nations grew 7.9 percent to 1.879 billion U.S. dollars last year. China is Cuba's second-largest trade partner, while Cuba is China's largest trade partner among Caribbean nations.
"Xi's visit to these four nations will further enhance bilateral economic ties between China and the four nations," said Jia Xiudong, a research fellow at the China Institute of International Studies.
POTENTIAL FOR COOPERATION IS HUGE
Jia said the economies of China and Latin America are complementary in nature, as the former boasts huge market potential, funds and technology while the latter is rich in resources, including crude oil and agricultural products.
Trade between China and the region grew more than 20-fold from 12.6 billion U.S. dollars in 2000 to 261.6 billion U.S. dollars in 2013. China is a major trade partner and source of investment for Latin America.
Background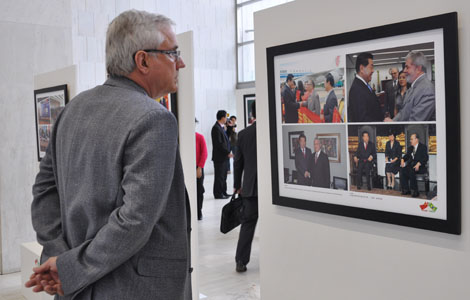 Feature