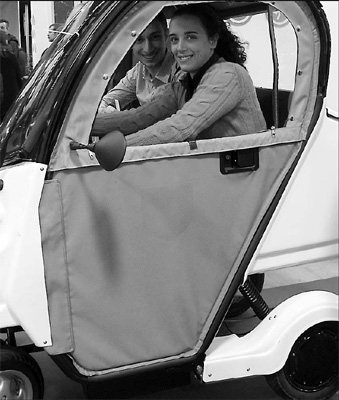 Delegates test drive a small electric car at the Green Bright Expoon Sunday. [Si Tingting/China Daily]

COPENHAGEN: While politicians and climate negotiators from all over the world gather to achieve a climate deal at one end of Copenhagen, business people representing 180 clean energy solutions providers from Denmark and another 18 countries gathered at the other end of the town during the weekend to offer practical solutions to cut emissions.
Here at the Bright Green Expo, hints of an innovation race are abundant.
Norway-based world's leading photovoltaic (PV) company, Renewable Energy Corporation, and Energy Research Center of the Netherlands together made the world's first multicrystalline solar panels with 17 percent efficiency recently, beating the previous world record of 16.5 percent.
Frederik Krebs, senior researcher at Riso DTU, is now able to print out the first solar cells on rolls of high-quality plastic. The latest example: a lamp that consists solely of an A4 size plastic solar cell sheet that can lie in the sun to charge up during the day. In the evening it is folded together into a round lamp that can shine for a few hours. The biggest potential is in savings for ordinary consumers who could charge mobile telephones or electrical devices that are on standby.
Sweden-based ChromoGenics AB, a world leader in development and manufacturing of products based on electrochromism, came out with a product that can change a window from a clear state to dark, which could save 60 percent of the energy needed to cool the house compared to traditional clear glass. The device, like sunglasses for a building, can be adjusted to the user's preference without blocking the view to the outside.
Italy-based ProMinent Group incorporated a solar panel and LCD screen into a new version of public water fountain machine, which could produce still and sparkling fresh drinking water at a reduced energy use. The solar panel could contribute 15 percent of the energy used by the fountain and the fountain could reduce the use of bottled water. The machine, once installed, could also generate advertising revenue because the large LCD screen could provide advertising space.
No need to wait
"The technologies are already there, but we need the government policy incentives or stricter standards to for people to reduce energy use," said Niels B. Christiansen, president and CEO of Danfoss, a leading manufacturer of valves and fluid-handling components in Demark and also the sponsor of the Bright Green Expo.
Danfoss has recently become a provider of radiator thermostats to some northern China cities. Unlike most of the radiators in China's homes which be turned on or off, the electronically-controlled radiators produced by Danfoss could keep the room temperature at a stable level, while increasing energy efficiency.
"It will only cost about 2,000 to 3,000 yuan to install one radiator, but it's cheap compared to the housing prices and it benefits the long-run in reduced energy bills," said Christiansen.
The upfront cost of applying more efficient technologies to a building is paid for by a developer, but it is usually commercial tenants who receive the benefit of reduced energy bills, said Christiansen. "Therefore, the developer is not necessarily interested in building efficiency. For this reason, it is critical that the government make it into a building standard to make this technology more accepted," he added.
China's market potential
Many of the big clean technology providers are eyeing China as big consumers of their technologies after the Chinese government demonstrated great interest in improving energy efficiency.
Danfoss is also developing the power module to connect the high voltage power produced by windmills and solar power plants to the local grid, which the company believes will have great potential in China. Christiansen believes the power module to connect rooftop solar cells to home grid will have a great potential in China.
"We are now taking China as our second home, whereas the Europe is our first home," he said.
GE Ecomagination Business, an environmental solutions program in China, records $656 million revenues and 50 percent year-on-year growth in the first three quarters of 2009.
Also at the green solutions expo, there are voices saying we do not even need smart technologies to reduce carbon emissions. Returning to the simplest way of living could also help to cut emissions.
CEI-Bois, the European Confederation of woodworking industries, encourages the use of wood products, which could act as a greener alternative to more fossil-fuel intensive materials. According to its research, substituting a cubic meter of wood for other construction materials, such as concrete, blocks or bricks, results in the significant average of 0.75 to 1 ton of CO2 savings.
(China Daily 12/15/2009 page11)