Lima -- The United States, China, Japan and 18 other economies in Asia and the Americas promised fast and decisive action on Sunday to prevent a severe global economic downturn.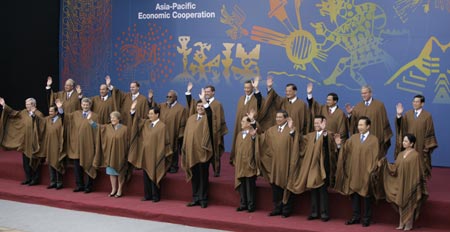 Leaders pose for a group photo while wearing typical ponchos from Peru, during a break in the Asia-Pacific Economic Cooperation (APEC) summit in Lima, November 23, 2008. [Agencies]
With recession gripping parts of the world and financial markets in chaos, leaders at the 21-member Asia-Pacific Economic Cooperation forum, or APEC, said the slowdown is "one of the most serious economic challenges we have ever faced."
Related readings:


Leaders vow free trade, support Doha


Hu, Bush meet on ties, financial crisis


Hu outlines China's future development


Hu urges business community to help tackle financial crisis


Hu urges sustained economic growth
They said free trade and higher government spending were key to resolving the crisis and supported a big push to revive long-stalled global trade talks by seeking agreements in the contentious sectors of farming and manufactured goods.
The leaders promised to "take all necessary economic and financial measures to resolve this crisis."
Their declaration at the end of a two-day summit in Peru echoed measures called for by the Group of 20 major economies at a meeting in Washington a week earlier, and widened support for drastic action to stimulate lending and spending.
APEC members account for more than half of the world's economic output and also include Canada, Indonesia, Mexico, Chile, New Zealand, Singapore, South Korea and China's Hong Kong. Nine of them belong to the G20.
They pledged at the summit to work together to ease the turmoil, agreed not to adopt new trade barriers for a year and called for better regulation of the financial industry.
They also supported overhauls of the International Monetary Fund and World Bank at a time when more countries need emergency bailouts to avert economic disaster.
"The global political and economic architecture is undergoing the deepest and most complicated changes since the Cold War," Chinese President Hu Jintao told Russia's Dmitry Medvedev at the summit.
Medvedev said the non-binding declaration might still allow countries to help domestic producers.
"On the one hand we took an obligation not to resort to protectionism, but of course we will draft measures to help our producers survive, help them with credits and some reasonable measures," he said.
Japan reiterated an offer of $100 billion in funding for the IMF.
Trade Deadlock
APEC, which groups some of the most open economies in the world, warned that countries should not be tempted to use protectionist measures even if job losses mount.
"We are convinced that we can overcome this crisis in a period of 18 months," the leaders said at the summit.
US President George W. Bush, on his last scheduled foreign trip before leaving office in January, held bilateral meetings with the leaders of China, Japan and Russia.
He tried to use the meeting to revive global trade talks before handing off to President-elect Barack Obama, who has expressed more caution about free trade than Bush.
A senior US official told reporters in Geneva he saw a "very high probability" that trade ministers would return to Geneva next month to try to get a breakthrough in the so-called Doha round of trade talks.
Major economies have slashed interest rates and spent hundreds of billions of dollars to help struggling banks after the meltdown in the US housing market sparked a worldwide credit crisis.
Now countries are looking at stimulus plans that include boosting government spending and cutting taxes.
Obama said on Saturday he was crafting an aggressive two-year stimulus plan to revive the country's troubled economy.
Canada could dip into a technical recession later this year or early next year, and will use fiscal stimulus if needed, Canadian Prime Minister Stephen Harper said.
APEC meetings over the last eight years have often been marked by anti-Bush protests and demonstrations against free trade, but protests were muted in Peru, perhaps because Bush is so close to leaving office.