LIMA, Peru: President Hu Jintao joined other Asia-Pacific leaders on Saturday in vowing to stick to free-trade principles and help revive the stalled Doha round of global trade talks.
"A fair and open multilateral trading regime is conducive to the steady growth of regional and global trade, to the sound growth of the world economy and to the benefit of all parties," he said in a speech at the Asia-Pacific Economic Cooperation (APEC) forum.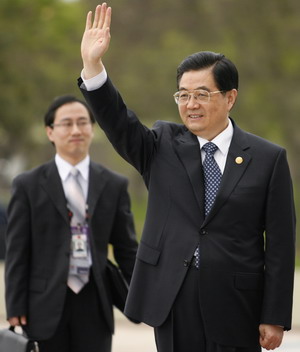 China's President Hu Jintao arrives for the second plenary session at the Asia-Pacific Economic Cooperation (APEC) summit in Lima November 23, 2008. [Agencies]
"We should have strong confidence in the multilateral trading regime and give strong support to the Doha round of negotiations," Hu added.
Leaders from 21 countries and regions that account for half the world's economy pledged not to implement protectionist measures for the next 12 months - no matter how punishing the global downturn gets.
Related readings:

 China, US presidents meet on bilateral ties, financial crisis


 Hu outlines China's future development


 Hu urges business community to help tackle financial crisis


 Hu urges APEC to promote sustained economic growth
They endorsed a declaration made at last weekend's Group of 20 summit in Washington, which brought together the world's richest economies and major developing nations.
"We strongly support the Washington Declaration and will refrain within the next 12 months from raising new barriers to investment or to trade in goods and services (and from) imposing new export restrictions," the APEC leaders said in a joint declaration.
They also pledged to reach agreement next month on the outlines of a World Trade Organization pact that collapsed in July after seven years of negotiations.
US President George W. Bush said nations must not respond to the crisis by "imposing regulations that would stifle innovation and choke off growth".
"One of the enduring lessons of the Great Depression is that global protectionism is a path to global economic ruin," he said.
Kazuo Kodama, a Japanese government spokesman, said concern over the global financial crisis revived willingness to push forward on the trade talks.
Leader after leader spoke out against protectionism, saying it would bring devastating consequences. "Companies will go bankrupt and countless jobs will be lost, and poor nations and poor people will suffer the most damage," South Korean President Lee Myung-bak said.
Lee, former head of the Hyundai group, said open markets were central to boosting his nation's per-capita annual income from $100 in the 1960s to $20,000 today. Canadian Prime Minister Stephen Harper said the North American Free Trade Agreement has tripled trade and created 40 million jobs.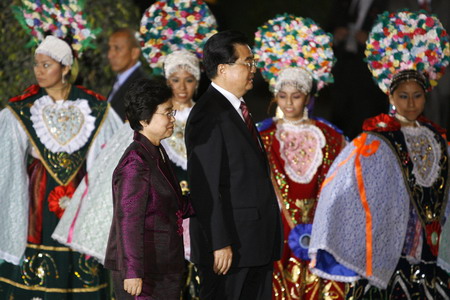 China's President Hu Jintao and his wife Liu Yongqing arrive for the official dinner at the Asia-Pacific Economic Cooperation (APEC) summit in Lima November 22, 2008. [Agencies]
Hu: China will do its best
Hu said the global financial situation remained extremely grim and that China was striving to stimulate its economy and strengthen ties with other developing countries to confront the crisis.
"China will take a responsible attitude and work alongside the international community to strengthen cooperation to strive to protect the stability of international financial markets," Hu said.
"China is, within the scope of its abilities, making major efforts to address the financial crisis," including, he said, "providing the necessary support for liquidity" for domestic financial institutions and coordinating macroeconomic policy with other countries.
His other proposals to tackle the global financial crisis include:
Coordination among countries to take prompt and effective measures.
The establishment of a new international financial order.
A change of models of economic growth that are not sustainable and addressing the underlying problems.
Chen Fengying, an economics professor at the China Institute of Contemporary International Relations, said the APEC leaders' calling for an "ambitious outcome" of the Doha round of talks is meant to "spur global trade and investment that has seen a huge decline under the financial crisis".
"If successful, such an agreement will partially offset the damage from the crisis," Chen said.
China Daily - Agencies