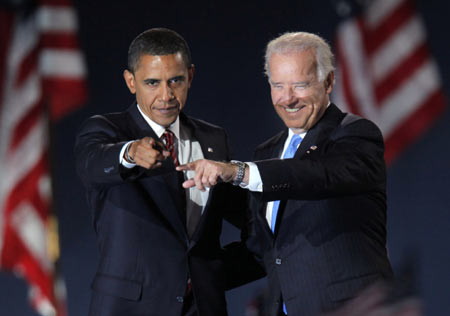 US President-elect Senator Barack Obama and Vice President-elect Joe Biden (R) point to supporters during their election night rally after being declared the winners of the 2008 US Presidential Campaign in Chicago November 4, 2008. [Agencies]
WASHINGTON – Barack Obama swept to victory as the first black president in the US history Tuesday night in an electoral college landslide that overcame racial barriers as old as America itself. "Change has come," he told a huge throng of cheering supporters.

Obama's election capped a meteoric rise -- from mere state senator to president-elect in four years.
Related readings:


 Obama wins women, blacks, Hispanics


 Obama on ballot: elation And Disbelief


 Major foreign policy issues


 Obama awaits victory


 World hopes for 'less arrogant America'


 Obama to inherit feeble economy awash in red ink
In his first speech as victor, Obama catalogued the challenges ahead. "The greatest of a lifetime," he said, "two wars, a planet in peril, the worst financial crisis in a century."

He added, "There are many who won't agree with every decision or policy I make as president, and we know that government can't solve every problem. But I will always be honest with you about the challenges we face."
The son of a black father from Kenya and a white mother from Kansas, the Democratic senator from Illinois sealed his historic triumph by defeating Republican Sen. John McCain in a string of wins in hard-fought battleground states -- Ohio, Florida, Virginia, Iowa and more.
In his speech, Obama invoked the words of Lincoln and echoed John F. Kennedy.

"So let us summon a new spirit of patriotism, of service and responsibility where each of us resolves to pitch in and work harder," he said.

He and his running mate, Joseph Biden of Delaware, will take their oaths of office as president and vice president on Jan. 20, 2009.

Obama will move into the Oval Office as leader of a country that is almost certainly in recession, and fighting two long wars, one in Iraq, the other in Afghanistan.

Obama has said his first order of presidential business will be to tackle the economy. He has also pledged to withdraw most US combat troops from Iraq within 16 months.
McCain called his former rival to concede defeat -- and the end of his own 10-year quest for the White House. "The American people have spoken, and spoken clearly," McCain told disappointed supporters in Arizona.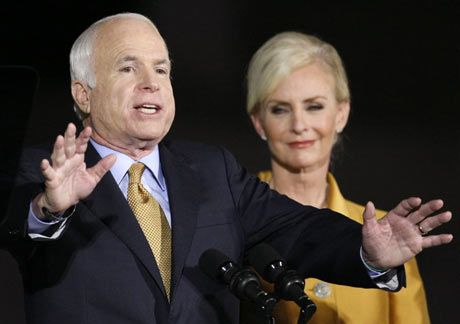 US Republican presidential nominee Senator John McCain stands with his wife Cindy as he delivers his concession speech after Barack Obama defeated him, during his election night rally in Phoenix, November 4, 2008. [Agencies]
"We have come to the end of a long journey," McCain said. "I urge all Americans who supported me to join me in not just congratulating him but offering our next president our goodwill."
President Bushadded his congratulations from the White House, where his tenure runs out on Jan. 20. "May God bless whoever wins tonight," he had told dinner guests earlier.
The popular vote was close -- 51.3 percent to 47.5 percent with 73 percent of all US precincts counted -- but not the count in the Electoral College, where it mattered most.
There, Obama's audacious decision to contest McCain in states that hadn't gone Democratic in years paid rich dividends. [Latest tally of projected electoral votes]
In Washington, the Democratic leaders of Congress celebrated.
"It is not a mandate for a party or ideology but a mandate for change," said Senate Majority leader Harry Reid of Nevada.