WASHINGTON: Lovers have more reason than ever to celebrate this Valentine's Day, as a new scientific theory has suggested a healthy and loving relationship is good for the heart.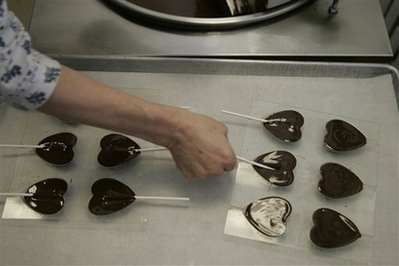 Karen Youngers places holders on chocolate lollipops for Valentine's Day at the Thomas Sweet Chocolate shop in Princeton, N.J., Monday, Feb. 11, 2008. [Agencies]
Research suggests that being involved in any type of healthy and close relationship may have a lot of positive health benefits, Julie Damp, a cardiologist at the Vanderbilt Heart and Vascular Institute in the United States, said in a press release on Tuesday.
"There are a couple of different theories behind why that might be," she said.
Most of the theories seem to be related to the fact that people who are married or in close, healthy relationships tend to be less likely to smoke, are more physically active and more likely to have a well-developed social structure.
In addition, they are likely to have lower levels of stress and anxiety in their lives.
Related readings:


 Singapore government plays Cupid for Valentine's Day


 Online Valentine cards may contain Internet worm


 Spice up your life on Valentine's Day


 Love is ... not sending a Valentine this year, claim green campaigners


 Can't find a man who makes you happy? The Love Doctor says it could be YOUR fault


 'Internet love' big for university students
"There is a theory that people who are in loving relationships may experience neuro-hormonal changes that have positive effects on the body, including the cardiovascular system," Damp said, explaining there are certain hormone levels in the body that vary depending on individuals' levels of stress and anxiety.
"This has not been proven, but the idea is that being in a relationship that is positive may have positive effects on your cardiovascular system over long periods of time," she said.
Chocolates and red wine are popular gifts for lovers, and studies have suggested they are also good for the heart.
Dark chocolate contains flavonoids, which are antioxidants. Antioxidants have proven positive effects on many different body systems including the cardiovascular system.
Flavonoids can also be found in red wine. Multiple observational studies have shown that moderate alcohol consumption is associated with lower rates of cardiovascular events.