CANBERRA -- Australian Prime Minister Kevin Rudd said sorry to the stolen generations in a public speech Wednesday morning in the parliament.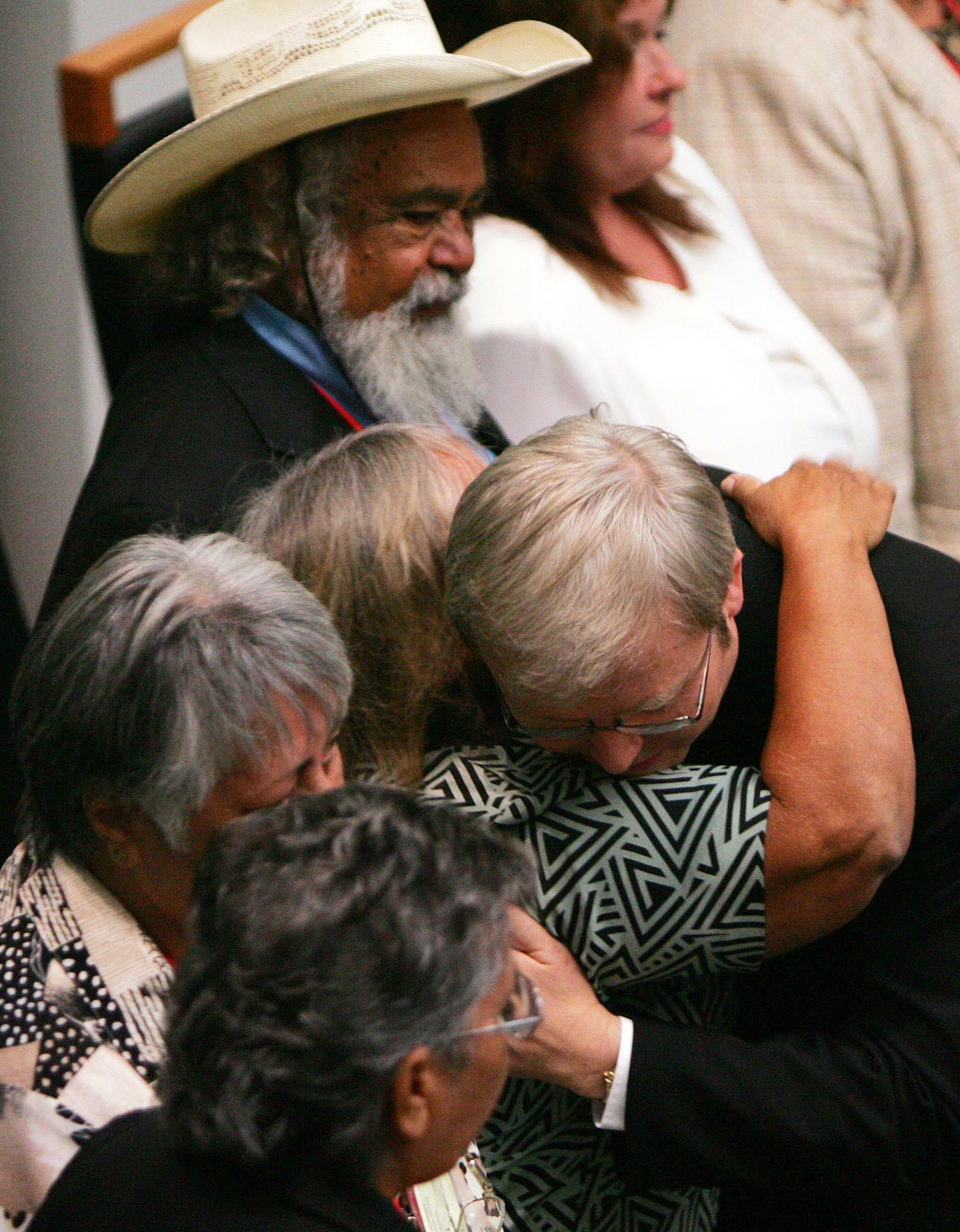 Australia's Prime Minister Kevin Rudd (R) hugs members of the Stolen Generation after delivering an official apology to Aboriginal Australians inside Parliament House in Canberra February 13, 2008. [Agencies]
"We reflect on their past mistreatment. We reflect in particular on the mistreatment of those who were stolen generations, this blemished chapter in our nation's history," Rudd said.
"We apologize for the laws and policies of successive parliaments and governments that have inflicted profound grief, suffering and loss on these our fellow Australians," the apology says.
"For the pain, suffering and hurt of these stolen generations, their descendants and for their families left behind, we say sorry.
"To the mothers and the fathers, the brothers and the sisters, for the breaking up of families and communities, we say sorry.
"And for the indignity and degradation thus inflicted on a proud people and a proud culture, we say sorry," the prime minister said in an emotional speech.
Hundreds of indigenous Australians descended on Canberra to witness the historic apology which comes more than a decade after the Bringing Them Home report.
The report documented the stories of tens of thousands of Aboriginal children taken from their families by governments from 1910 to the early 1970s.
Rudd said a new page in Australia's history can now be written.
"We today take this first step by acknowledging the past and laying claim to a future that embraces all Australians," he said.
Aborigines remain the country's poorest and most disadvantaged minority.
Related readings:


 Tears, dances as Aborigines make history in parliament


 Australia to apologize to Aborigines


 Australia to ban alcohol for Aborigines

 Aborigines remain in poverty, bad health
The motion is to be put to a vote Wednesday, and was certain to pass because it has the support of the government and the main opposition parties.
The apology is the centerpiece of Rudd's intention to make indigenous issues one of his government's top priorities following his election last November. It would overturn a decade of refusals by the previous government to offer an apology.
In another first, Aborigines were invited to give a traditional welcome Tuesday at the official opening of the parliamentary session - offering symbolic recognition that the land on which Australia's capital was built was once owned by Aborigines, and was taken away without compensation by European settlers.
Aborigines lived mostly hunter-gatherer lifestyles for thousands of years before British colonial settlers landed in Sydney in 1788.
Today, Aborigines number about 450,000 among Australia's population of 21 million and are the country's poorest group and are most likely to be jailed, unemployed and illiterate. Their life expectancy is 17 years shorter than other Australians.
From 1910 until the 1970s, about 100,000 mostly mixed-blood Aboriginal children were taken from their parents under state and federal laws based on a premise that Aborigines were dying out, and saving the children was a humane alternative.
The issue of apologizing was divisive for years, with many people supporting former Prime Minister John Howard's contention that while the policies were wrong, the present generation should not be made to feel guilty for mistakes of the past.
But an apology steadily gained support, and Howard's party now supports Rudd's proposal.
Rudd's motion makes no mention of paying compensation for past wrongs, as some indigenous leaders have demanded. Rudd has said that instead of offering compensation his government is determined to improve the living standards of all Aborigines.
But Michael Mansell, spokesman for the National Aboriginal Alliance, said the wording of the motion suggested Rudd was leaving open the possibility of discussing compensation.
Mansell, who has called for a A$1 billion ($880 million) compensation fund, welcomed the apology but said it should have acknowledged that the assimilation policies were an attempt to wipe out the Aboriginal race.