WASHINGTON - Russian bomber aircraft approached a US aircraft carrier in the Pacific on Saturday and were intercepted by American fighter jets, a US defense official said on Monday.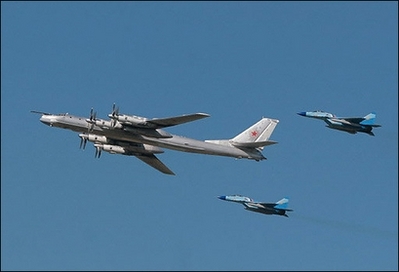 A Russian TU-95 bomber and two MiG-29's fly during an air show in 2007. A pair of Russian TU-95 Bear bombers overflew a US aircraft carrier in the western Pacific at an altitude of 2,000 feet (660 meters) over the weekend, prompting US fighter jets to scramble, a US defense official said Monday. [Agencies]
The bombers, flying south of Japan, were detected turning toward the USS Nimitz aircraft carrier and its accompanying ships. Four US F/A-18 fighters were launched to intercept the Russian aircraft, the official said.
One of the Russian "Bear" bombers flew over the deck of the Nimitz, said the official, speaking on condition of anonymity.
Related readings:


 UK jets shadow Russian bomber


 Ivanov: Russia, US should take lead in building new arms regime


 Japan says Russia war plane violates air space


 Russia bombers to test-fire missiles in Atlantic
The US fighters escorted the Russian bombers out of the area where the Nimitz was operating.
"Nimitz launched aircraft to intercept and escort the Russian aircraft in the vicinity of the aircraft carrier," the official said. "It is standard operating procedure for US planes to escort aircraft flying in the vicinity of US Navy ships."
Russian officials were not immediately available to comment.
A Russian bomber last flew over a US aircraft carrier in July 2004, when a Bear flew over the USS Kitty Hawk in the Sea of Japan, the official said.
Russian bombers have ramped up their flights near US territory and US naval assets over the past year, demonstrating their long-range strike capability. In August, Russian bombers were tracked flying a course toward Guam, a US territory in the Pacific.