GENEVA -- The current La Nina weather phenomenon may just be a partial cause of South China's freeze-up at the start of 2008, said the United Nations World Meteorological Agency (WMO) Monday.
The latest La Nina pattern, which began in the third quarter of 2007, has picked up strength in the past three months, with sea surface temperatures now about 1.5 to 2 degrees Celsius colder than average over large parts of the eastern and central equatorial Pacific Ocean, said the latest report issued by the WMO.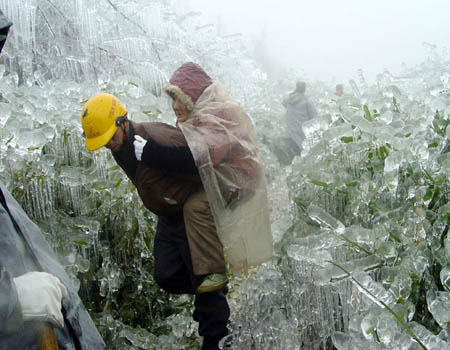 A rescuer carries an 80-year-old woman out of Jinlian village in Longnan county, East China's Jiangxi Province, Feb. 3, 2008. After being trapped for days in frozen weather and without electricity and water supply, 1,761 people in the village were rescued successfully on Sunday. [Xinhua]
Presenting the Geneva-based body's report, Rupa Kumar Killi, a WMO climate expert, said the recent month-long snow and ice-storms in China's central, southern and eastern regions could be connected with the La Nina phenomenon, the climatic opposite of El Nino.
Related readings:


 More countries show sympathy to China over snow havoc


 Impressive moments during China's war on snow havoc

 Heavy snow may help improve envioronment around China's largest desert


 Heavy snow may help improve environment on desert


 La Nina blamed for snow disasters
However, he said China's freeze-up was a result of several causes combined and was partly caused by a cold surge from the north and west.
He also said the present La Nina cycle may last at least until mid-2008 and it is also possible, if less likely, that the cycle could stretch into the third quarter.
La Nina is a large pool of unusually cold water in the equatorial Pacific that develops every few years and influences global weather. It is the climatic opposite of El Nino, a warming of the Pacific, and both have been associated with extreme weather around the globe.
Since January 10, snow, sleet and low temperatures have swept China's southern regions, a rare occurrence for the area.