MOSCOW: President Vladimir Putin nominated close political ally Dmitry Medvedev as his party's presidential candidate Monday and said he was ready to serve as prime minister in a Medvedev administration.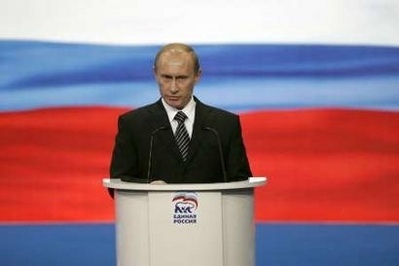 Russia's President Vladimir Putin addresses a congress of his United Russia party held near Moscow's Red Square December 17, 2007. [Agencies]
"If Russian citizens express their confidence in Dmitry Medvedev and elect him as the country's president, I will be ready to head the government," Putin told a congress of his United Russia party held near Moscow's Red Square.
"(We) shouldn't be ashamed or afraid of transferring the key powers of the country, the destiny of Russia to the hands of such a man," he added.
Medvedev, 42, was later adopted by the congress as United Russia's presidential candidate. Delegates voted 478-1 in a sober ceremony held without debate.
In his brief acceptance speech, Medvedev listed priorities such as strengthening Russia's position in the world, preserving the Russian nation, looking after the young and the old.
"All this is in Vladimir Putin's strategy. I will be guided by this strategy, if I am elected president," Medvedev said.
"But carrying out an idea can only be successful with the participation of its author. I have no doubt that in the future Vladimir Putin will use all his resources, all his influence in Russia and abroad for the benefit of Russia."
Putin signaled Medvedev, a first deputy prime minister and chairman of state gas giant Gazprom, last week as his chosen successor for next March's presidential elections. The constitution forbids Putin from seeking a third term.
Putin walked into the congress hall side by side with Medvedev to applause from the delegates.
In a brief speech, Putin said there was no intention to change the balance of power between the president and the prime minister. Russia's constitution grants most power to the president, who appoints the prime minister and can fire him.
He praised Medvedev as a man whose "main principles in life are the interests of its government and its citizens".
Russian media reported that Putin could send the Kremlin chief of staff to run Medvedev's election campaign.
The Vedomosti newspaper reported that Kremlin chief of staff Sergei Sobyanin and possibly the main Kremlin political strategist, Vladislav Surkov, would head Medvedev's campaign.
"For the first time a presidential candidate's campaign staff will be headed by the Kremlin chief of staff," Vedomosti wrote.
In the past, successful heads of the election campaign have gone on to become chief of the Kremlin staff.
A senior United Russia source told Reuters the choice would mean Medvedev has a full set of Kremlin officials beside him as an extra assurance that he would stick to Putin's agenda once elected.
"By doing so, Putin will in fact hand over to Medvedev his full staff which will smoothly carry on with what it is doing now," the source said.
Opinion polls show more than 50 percent of Russians are ready to vote for anyone chosen by Putin. The Kremlin leader's support helped United Russia win more than two-thirds of seats in the lower house of parliament in an election on December 2.
This victory would give Putin a powerful political base as prime minister.
Agencies