PARIS - French President Nicolas Sarkozy's new love interest is supermodel-turned-singer Carla Bruni, reports said Monday after the two were photographed together at Disneyland Paris.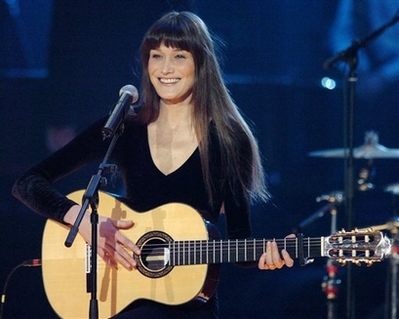 Italian former top model and singer Carla Bruni performs at the Victoires de la Musique 2004 awards ceremony at the Zenith, in Paris in this Feb. 28, 2004 file photo. [Agencies]
The respected news weekly L'Express posted a photo of the duo on its Internet site, and at least two other magazines said they would run the images.
The president's office would not comment on their status. But the daily Le Figaro, seen as close to the conservative, newly divorced president, ran a front-page image of the Italian-French Bruni on Monday with the headline: "Carla Bruni: The President's Girlfriend."
Christophe Barbier, the editor of L'Express, said he called Bruni, whom he described as a friend, before going public with the story.
"She confirmed the relationship," he said.
Sarkozy and Bruni visited Disneyland on Saturday when the park was thronged with visitors, L'Express reported. Several photographers reportedly were on hand and openly snapped photos of the pair, who seemed at ease with the attention.
Colombe Pringle, editor of Point de Vue magazine, said she believed Sarkozy and Bruni made themselves available to photographers deliberately.
"Nicolas Sarkozy and Carla Bruni wanted people to know," she told France-Info radio. "Otherwise, I don't know why they would have gone to Euro Disney to look at the Mickey (Mouse) parade."
Point de Vue's cover said they visited the theme park "en famille," suggesting they were there with one or more of their respective children, though it was not immediately clear which.
Sarkozy, 52, basked in the media spotlight in his long race to the presidency leading up to his May election. He bristled, however, at the intense media attention at the end of his tempestuous marriage to Cecilia Sarkozy, a former model. They divorced two months ago.
Bruni, believed to be in her late 30s, won critical and public acclaim for her first folk album in 2003. She has been linked in the past to a number of famous men, including rocker Mick Jagger and mogul Donald Trump.