WASHINGTON -- US President George W. Bush said on Saturday that Pakistani President Pervez Musharraf's promises to hold elections and to take off his uniform are "positive steps."
"I do remind you that he has declared that he'll take off his uniform and he has declared there will be elections, which are positive steps," Bush said at a joint news conference with German Chancellor Angela Merkel after a meeting at his Texas ranch.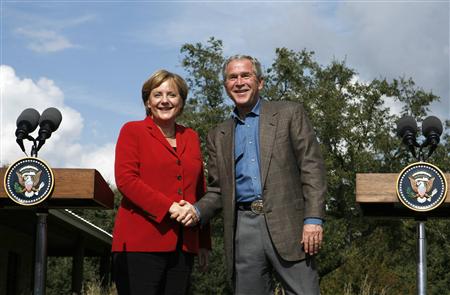 President George W. Bush and German Chancellor Angela Merkel shake hands after their news conference at his ranch in Crawford, Texas, November 10, 2007. [Xinhua]
Bush, who attached great importance to Pakistan's role in the US-led "war on terror," reiterated that the United States needs Pakistan's cooperation in fighting al Qaeda.
He said the United States and Pakistan "share a common goal" in combating al Qaeda that is responsible for, among many others, the Sept. 11 attacks on the United States six years ago.
Musharraf, who was re-elected as Pakistan's president in early October, said Thursday that he would quit as the army chief before taking oath as Pakistan's president. He also announced that the general elections would be held by Feb. 15 next year.
The Pakistani leader said he was committed to holding general elections and the transition to full democratic civilian rule in Pakistan.
Musharraf declared a state of emergency in the country on Nov. 3 and issued a provisional constitutional order, citing increases in extremist activities and terrorist attacks and abuse by the judiciary in the country.