ATHENS, Greece - A top prosecutor ordered an investigation Monday into whether this summer's arson attacks in Greek forests could be considered terrorism, the Public Order Ministry said.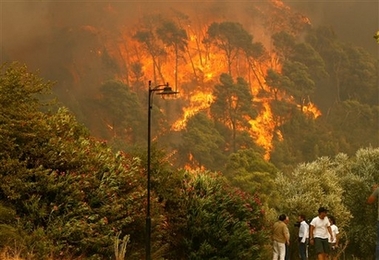 Fire burns on the Hill of Kronos next to the site of ancient Olympia, birthplace of the Olympic Games, in southwestern Greece on Sunday, Aug. 26, 2007. [AP]
Meanwhile, a fire broke out on the fringes of Athens a day after a massive effort prevented the birthplace of the Olympics from being devastated by flames.
Dimitris Papangelopoulos, who is responsible for prosecuting terrorism and organized crime, ordered the investigation to determine "whether the crimes of arsonists and of arson attacks on forests" could come under Greece's anti-terrorism law, the ministry said in a statement.
The probe also will seek to establish the identities of the alleged perpetrators.
Greece has been ravaged by hundreds of massive wildfires since Friday that have left at least 61 people dead. The country also suffered fires in June and July, although they were not nearly on the same scale.
Government officials have said they suspect at least some of the blazes have been caused by arson. The government has offered a reward of up to $1.36 million for anyone providing information that would lead to the arrest of an arsonist.
"So many fires breaking out simultaneously in so many parts of the country cannot be a coincidence," Prime Minister Costas Karamanlis said in a nationally televised address on Saturday. "The state will do everything it can to find those responsible and punish them."
Several people have been arrested on suspicion of arson since Friday, although some were accused of starting fires through negligence rather than intent. One man, however, was charged with arson and homicide in connection with a fire near the southern town of Areopolis on Friday that killed six people.
Forest fires are common during Greece's hot, dry summers - but nothing has approached the scale of the last three days.