HEILIGENDAMM, Germany - Chancellor Angela Merkel said Thursday that the Group of Eight has agreed on a plan calling for "substantial cuts" to greenhouse gas emissions.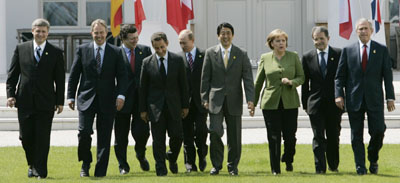 G8 leaders walk to have their official summit photograph taken in Heiligendamm, June 7, 2007. They are (L-R) Canadian Prime Minister Stephen Harper, British Prime Minister Tony Blair, European Commission President Jose Manuel Barroso, French President Nicolas Sarkozy, Russian President Vladimir Putin, Japanese Prime Minister Shinzo Abe, German Chancellor Angela Merkel, Italian Prime Minister Romano Prodi and U.S. President George W. Bush. [Reuters]
The goal is to cut greenhouse gas emissions in half by 2050, Merkel said, hailing the decision as a "huge success," adding that it came after many rounds of talks and negotiations on climate change.
"I think that it is possible that we'll leave the summit with a commitment on the part of everyone to a substantial reduction of greenhouse gases by 2050 as a global target that is of the order of the type of figures the Europeans are talking about," British Prime Minister Tony Blair said earlier.
But agreement on the goal of a deep, fixed reduction of 50 percent was unlikely, he said.
"What is important is that that there should be such a target and that is the sort of ballpark we're talking about," he said.
Merkel, the summit host, wants the leaders to agree on binding reductions. Bush instead has proposed having the 15 top polluters meet and set a long-term goal, but decide themselves how much to do toward it.
Bush praised Blair, his closest foreign ally in more than six years in office. Bush pronounced himself "nostalgic" as they stood together for the last time at an international summit. Blair leaves office in a few weeks.
"This is the last meeting I will have with him as prime minister," Bush said. "I'm sad about that."
Said Blair: "To be absolutely frank at the moment ... I haven't had time to be nostalgic."
Blair and Bush later joined six other counterparts for the first working session of the G-8, which besides global warming is tackling edgy relations with Russia and Moscow's opposition to Western efforts to secure independence for Serbia's
Kosovo province, the crisis in Darfur, aid to Africa, the Middle East and trade talks.
North Korea is likely to be another topic of discussion. The reclusive communist regime on Thursday fired short-range missiles off its western coast in an apparent test, according to South Korea's Defense Ministry.
The United States immediately denounced the launch, saying such activity was "not constructive" in the midst of a deadlock in international negotiations over North Korea's nuclear weapons program.
Merkel chaired the first working G-8 session, with Blair to her left and Bush next to him. Also at the table were Russia's
Vladimir Putin, Italy's Romano Prodi, Canada's Stephen Harper, France's Nicolas Sarkozy, Japan's Shinzo Abe and Jose Manuel Barroso of the European Commission.
Bush and Putin were to meet privately later Thursday, after days of Cold War-style sparring over U.S. plans to base a missile defense shield in Russia's back yard.
The assembled leaders also met with youth representatives holding a summit of their own, known as the J-8.
Anti-poverty groups, meanwhile, hope the leaders will recommit to promises made during their summit two years ago in Gleneagles, Scotland, to increase international aid to poorer countries.
In 2005, the G-8 agreed to increase the amount of aid by $50 billion a year through 2010, with half going to Africa. But since then, the pledge has fallen short and missed the target by $30 billion, anti-poverty groups say.
Musicians Bono and Sir Bob Geldof have joined former U.N. Secretary-General
Kofi Annan in urging renewed commitment. Bush discussed Africa aid with Bono and Geldof on Wednesday.
This year's Group of Eight gathering is being held under tight security, with Heiligendamm sealed off by a seven-mile, razor wire-topped fence. Thousands of police have been deployed across the northern German region.
Protests continued Thursday on the second day of the summit, as demonstrators continued to block roads leading to Heiligendamm and police again resorted to firing water cannons to scatter them.
Offshore, Greenpeace environmental activists led police on a boat chase, with one boatload briefly spilling its contents into the Baltic.