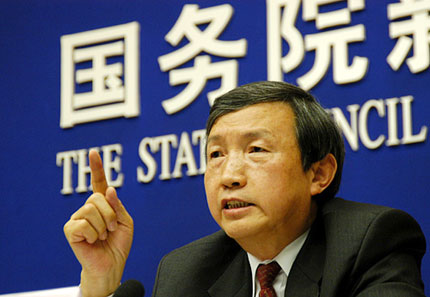 Ma Kai, minister of the National Development and Reform Commission, announces China's action plan on climate changes in Beijing June 4, 2007. [Xinhua]


China on Monday pledged to cut greenhouse gas emissions as it unveiled its first climate change action plan but reiterated that it would not commit itself to quantified reductions as it is "not fair" for a developing country.

Ma Kai, minister of the National Development and Reform Commission (NDRC), told a news briefing that it is "too early, too abrupt and too blunt" for the international community to impose emission caps on China, whose historic and per capita emissions are much lower than developed countries.

According to the World Resource Institute, China's cumulative emissions of carbon dioxide (CO2) from fossil fuel combustion accounted for only 9.33 percent of the world total from 1950 to 2002, says the 62-page action plan.

International Energy Agency statistics also show that in 2004, China's per capita CO2 emission from fossil fuel combustion was 3.65 tons, or 87 percent of the world average, it adds.

Ma said the foremost task for China is to "develop the economy and eradicate poverty", and the international society should respect its right to development.

"The ramifications of limiting the development of developing countries would be even more serious than those from climate change."

But he added that China will share the responsibility of mitigating the effects of global warming with developed countries, which are responsible for most of greenhouse gas emissions.

The action plan was unveiled two days before President Hu Jintao attends a summit of G8 industrialized nations in Germany which will focus on global warming.

The plan, co-drafted by 16 ministries, is the first of its kind in developing countries, which are exempt from emission caps till 2012 under the Kyoto Protocol.

It is also a result of China implementing the United Nations Framework Convention on Climate Change. The program sets three major goals to be met by 2010:

Reduce energy consumption per unit of gross domestic product by 20 percent.

Raise the proportion of renewable energy in primary energy supply up to 10 percent from 7 percent.

Increase the forest coverage rate to 20 percent from 18 percent.

Key measures to help achieve the goals are also specified: Increase nuclear power use, promote clean coal technology, and develop biofuel.

The program also calls for international collaboration in technology transfer and capacity building.

"China is in urgent need of technology for reducing greenhouse gas emissions," it says.

High-efficiency, low-pollution coal-burning power generation, large hydropower generation units and new-generation nuclear technologies are among those in great demand, it says.

Ma said the government hopes developed countries take a more practical stance to support developing countries in technology transfer.

"We feel that there's been lots of thunder but little rain, lots of talk but little action," he said when asked if China was satisfied with technology transfers.

Kishan Khoday, assistant resident representative of the United Nations Development Program (UNDP) in China, commended the program for providing "a key channel" for the Chinese government in coordinating action to address climate change.

Khoday, also a team leader of the energy and environment program, added that the UNDP will launch a new project with the NDRC in August to help provincial governments better implement the program locally, starting with big cities.