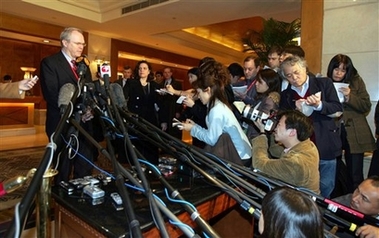 US Assistant Secretary of State Christopher Hill, left, speaks to reporters in Beijing, China, Monday, Feb. 12, 2007. [AP]


BEIJING - Talks on North Korea's nuclear program were likely to be extended a day in a possible sign of narrowing differences, a South Korean official said Monday, as envoys lay responsibility for resolving the long-running standoff solely on Pyongyang.

Over the previous four days, the six-country talks in Beijing have stalled over disagreements on energy assistance for the North in exchange for its abandonment of nuclear weapons.

"It is up to the North Koreans. We have put everything on the table. We have offered a way forward on a number of issues. They just need to make a decision," US Assistant Secretary of State Christopher Hill told reporters before Monday's session, which he said would be the last day of talks.

But later after a series of meetings between delegations, a South Korean official said negotiations were expected to be extended another day.

"Consultations among the countries are under way in a more sincere manner," the official said on condition of anonymity due to the ongoing diplomacy. "The talks are expected to continue tomorrow although China has not yet made any decision."

The current round of six-nation talks began on a promising note after the United States and North Korea signaled a willingness to compromise. But negotiations quickly became mired on the energy issue.

The negotiations - which include the two Koreas, the US, Japan, China and Russia - have plodded on intermittently for more than three years.

Adding pressure on the delegates was a sense that failure to reach an agreement this time could permanently doom the talks.

"There's a certain life cycle to these negotiations," Hill said Monday. If North Korea rejects the current proposal, the American diplomat speculated that there would "be some political climate change, if not in the US, then maybe among some other countries."

But he added, "I don't want to predict that this is the last chance."

Negotiators had hoped the latest round would result in North Korea taking its first concrete steps in dismantling its nuclear program, an issue that became especially critical after the North conducted its first nuclear test explosion in October.

The issue that had previously stalled the talks - US financial restrictions against a Macau bank with North Korean accounts - was not an obstacle this time.

Japan's Asahi Shimbun newspaper reported Monday that the US told North Korea last month it is prepared to proclaim that US$11 million in Pyongyang's assets at the bank was legitimately earned, and was not related to alleged North Korean crimes including counterfeiting and money laundering.

The move would allow the money to be released from accounts frozen after Washington blacklisted the bank in 2005.