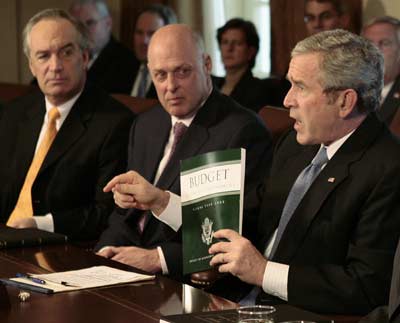 US President George W. Bush holds a copy of his latest 2008 budget during a cabinet meeting at the White House in Washington, February 5, 2007. Alongside Bush are Secretary of the Interior Dirk Kempthorne (L) and Secretary of the Treasury Henry Paulson. [Reuters]


Washington - US President George W. Bush presented the Congress with a mammoth $716.5 billion budget request to fund large US military, including its missions in war-torn Iraq and Afghanistan.
Bush's defense budget, unveiled as part of a larger government budget plan for fiscal 2008, also seeks to acquire more troops, warships and aircraft for a major expansion of the US military.
Special coverage:
Saddam Hanged

Related readings:
Rep. block Senate debate on Iraq
Video said to show US copter shot down
Bush budget centers on military, Iraq
Gates: US not planning Iran war
Casey: Only half of troop boost needed
The defense budget request came in three pieces -- $481.4 billion for the Pentagon's 2008 base budget; $141.7 billion for the "global war on terrorism" in 2008; and $93.4 billion to cover additional war costs in the current fiscal year to September 30.

"The sums involved in the defense budget requests are staggering," said Representative Ike Skelton, chairman of the House Armed Services Committee.

"We cannot provide an adequate national defense on the cheap, but neither can we afford to simply ratify the president's request without performing the due diligence and oversight our constitution requires," he said.

The huge spending package comes amid spiking demands for US forces in Iraq and Afghanistan, which military leaders have warned are putting at risk the Pentagon's ability to meet challenges elsewhere in the world.

It marked the first time the administration has sent Congress inclusive war-related budget requests, instead of the piecemeal emergency funding requests it has used previously to fund operations in Iraq and Afghanistan.

The $141.7 billion request for waging the global war on terror includes $70.6 billion for "warfighting operations."

A total $4.7 billion is earmarked for training and equipping Iraqi and Afghan security forces, $15.2 billion for "force protection," including developing ways to counter roadside bombs, or IEDs (improved explosive devices), the biggest killer of US troops in Iraq.

The $93.4 billion request stemming from 2007 also includes funds for Iraq and Afghanistan, such as repairing and replacing spent equipment, training local security forces, and developing IED counter-measures.

The administration is requesting a 11.3 percent boost in its base defense budget for 2008 over this year.

It includes a major expansion in the size of the Army and Marine Corps that is projected to add 92,000 troops by 2012 and will cost $12.1 billion next year.

The Army's budget would swell to $130.1 billion, up $20.4 billion, surpassed in size only by the Air Force. The Marine Corps budget would grow by more than 25 percent to $20.5 billion, a $4.3 billion increase over this year.

Rather than compensate with cuts in other areas, the administration's request also adds billion of dollars to the budgets of the Air Force and Navy, services that have played secondary roles in the Iraq and Afghan conflicts.

The Air Force and Navy would play lead roles in countering other potential adversaries -- nuclear-armed North Korea, Iran and China, whose rapid military modernization has prompted US worries about its intentions.

"Recognizing that threats to US security exist beyond the war on terror in Iraq and Afghanistan, the United States must increase the strength and capabilities of its forces, maintain a high state of readiness and support, and continue strategic modernization," the Pentagon said.

The proposal would boost procurement spending by more than $20 billion to buy fighter aircraft, electronic warfare planes, unmanned aircraft, an aircraft carrier, destroyers, and littoral combat ships.

Overall procurement spending for 2008 would total $107.8 billlion, according to Pentagon projections.

It would provide 14.4 billion dollars for shipbuilding, up $3.2 billion; $27 billion for aircraft, up $4.1 billion; and $3.7 billion for the army's next generation of networked ground combat vehicles.

The proposed operations and maintenance budget would go up by $15.5 billion to $164.7 billion, much of it for training land forces, air crews and to keep US warships at sea longer.