More than 100 Chinese enterprises, big and small, participated in the 2012 International Consumer Electronics Show in Las Vegas.
The World Resources Institute and the National Development and Reform Commission of China hosted a low carbon development workshop in Washington on January 11th.
The Heritage Foundation held a panel discussion on January 10th to examine both the role the United States will play in the Chinese transition and the role China will play in the American presidential election.
A delegation of Chinese artistic directors, producers and cultural officials have begun an intensive six-day training program in New York City to learn from Broadway.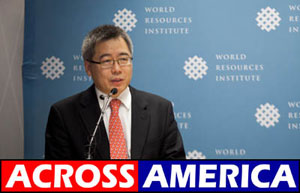 Producer: Leon Huang, Sun Peng, Yuhan Liu
Supervising Producer: Flora Yue
Reporter: Wang Jun, Tan Yingzi, Sun Peng, Yuhan Liu, Leon Huang
Senior Producer: Larry Lee, Ji Tao