"When I came to Shenzhen, I could see the students here are really interested in having this in their city," Claude-Louis Gallien, the newly elected president of the International University Sports Federation (FISU), said of Shenzhen Universiade.
The Frenchman was chosen for the position at the 32nd FISU General Assembly on Tuesday. He defeated incumbent George Killian from the United States by a narrow 76 to 67 vote. Killian will end his presidency after the 26th Summer Universiade in Shenzhen.
Before his election, Gallien had been working as FISU's vice president for 12 years. He was a former university hammer throwing champion and vice president of the French National Olympic Committee. Famous for his involvement in anti-doping issues, Gallien was president of the French National Commission for Fighting against Doping from 1996 to 1999.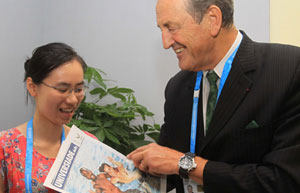 Video: Huang Lan & Xing Xudong
Reporter: Shi Yingying
Producer: Flora Yue