Beijing -- Dozens of Chinese students, who spent three weeks in Hungary last year recuperating from the devastating earthquake in Sichuan, are acting as a bridge between their schools and those in the eastern European country, said a senior Hungarian diplomat Friday.
The schools have been shortlisted for the friendly institutions with their counterparts in Hungary, Hungarian Ambassador to China Sándor Kusai told China Daily website in an exclusive interview. 
Fifty students from Dujiangyan and Pengzhou cities, near the epicenter of last year's 8.0-magnitude earthquake in Sichuan province, were invited by the Hungarian government on a three-week trip to Hungary to help them recover from the traumatic tragedy.
"Mostly, we are choosing schools where those children visited Hungary," Mr. Kusai said.
The friendly sister school project, which is expected to be announced in a few months, will help the Hungarian embassy and its government follow up on the students' lives "even more closely" when they are away from Budapest, Kusai said.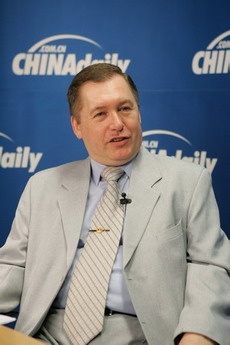 Sándor Kusai, the Hungarian Ambassador to China, talks during an exclusive interview with China Daily website in Beijing, May 8, 2009. [chinadaily.com.cn] 
During last year's trip, the pupils flew to Budapest on August 4, where they visited youth camps, various landmarks and scenic sites in the culture-rich country. Some of the highlights included Balaton Lake where they swam and played with Hungarian youth, the former Hungarian Kings' castle where they watched a medieval knights' performance, and the Buda hillside where they rode horses.
"It was very important for them…that they were ready to begin a new life," Mr Kusai said, adding he felt an emotional motivation to help.
When the students attended the Budapest firework ceremony for the Hungarian National Day Holiday on August 20, which dates back 1,008 years, they were "a little bit surprised" to find out that Hungary's thousand-year history parallels their motherland's rich past.
"That was one of the most important results of that trip, that they got an open mind for the whole world," the ambassador didn't attempt to conceal his satisfaction.
Tutors on the recuperation trip were impressed to find these well-disciplined Chinese children were easily establishing friendships. Within a few days, they used less and less interpreters and even taught each other's country's folk songs to their counterparts.
"If Chinese and Hungarian children can meet, can play together, that's a very important sign of the friendship," Mr. Kusai said, noting the China-Hungary relations that have witnessed 60 years of mutual understanding and ever-growing cooperation since the founding of the People's Republic of China in 1949.
The mandarin-proficient diplomat, who first came to China 25 years ago, expressed his confidence in bilateral ties. "The biggest result I think that we have built up within the 60 years is a very solid foundation for moving forward with the mutual friendship," he said.