Video II
Video III
A German-based chemical and pharmaceutical giant best known for inventing aspirin has shown the world that they do more than just help cure headaches. They also help reconstruct quake-stricken areas on a long-term basis.  
Bayer has been steadfastly helping with relief efforts in Sichuan after the powerful earthquake struck the province in May 2008. The third largest pharmaceutical company in the world is now trying to create something that "sustainably helps these societies to be successful and to improve their living standard", Michael Koenig, president of Bayer Greater China Group, said during an interview with China Daily on April 27, 2009.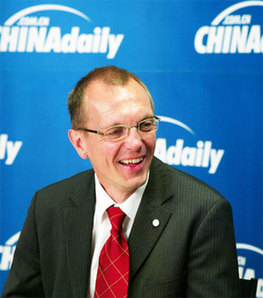 Michael Koenig, president of Bayer Greater China Group, smiles during an interview with chinadaily.com.cn on April 27, 2009. [chinadaily.com.cn] 
Starting in May 2009, Bayer Cares Phase IV, part of a four-phase initiative, introduced micro financing and livelihood planning, as well as a healthy living training program on topics like the responsible usage of antibiotics, high blood pressure and diabetes education to Mianzhu, one of the hardest-hit cities in Sichuan.
Full coverage:


 One-year Anniversary of Wenchuan Quake
Related readings:


 Sharing the care


 Bayer plans 100m euro investment


 Bayer sets up first R&D center in China


 Environmental protection a highlight of Bayer


 Bayer's eco-relief
In addition to incorporating the Group's core business competencies in the form of training for local people, Bayer has also pledged 1 million yuan in financial assistance to the China Foundation for Poverty Alleviation's 5.12 Microfinance Fund for earthquake reconstruction to encourage micro-lending for start-up businesses. The fund will be a four-year collaboration with the CFPA.
Bayer's aid to Sichuan's quake-stricken areas is "an ongoing program that changes its focus along with the local needs, and that's why we call [it] Bayer Cares Phase I, II, III and IV," Koenig explained.

"This terrible disaster is so much going to the heart of the society that a responsible company that feels part of the society just has to contribute," Koenig added.

If a company or organization wants to help, they have to "identify the needs" he pointed out.
Koenig said the Bayer Cares Project exemplifies Bayer's long-term commitment to the quake-stricken areas by contributing immediate disaster relief, helping reconstruct schools, and launching volunteer projects. The project also includes a sustainable four-year program which will help affected communities by providing necessary micro-credit funding and skills training to encourage small-sized business start-ups.