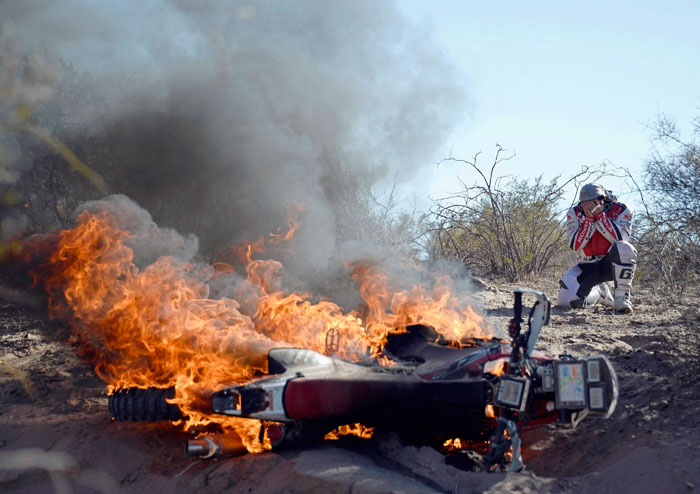 Paulo Goncalves of Portugal reacts in front of his Honda on fire during the fifth stage of the Dakar Rally 2014 from Chilecito to Tucuman, Jan 9, 2014. [Photo/Agencies]
Today's stage five from Chilecito to Tucuman was characterised by very hot temperatures over 40 degrees and a lot of sand and navigation in dry vegetation. Exactly because of this dry vegetation, Paulo Goncalves' bike became the victim of a fire accident.
Dry grass branches collected in the engine protection and caught fire near the hot exhaust during the extreme riding conditions in the deep sand.
Joan Barreda meanwhile battled with the very delicate navigation. The Spaniard dropped back to second place overall.
Paulo Goncalves: "After having lost my chances to fight for a top position following the problems during the marathon stage, I tried my best today to support Joan Barreda. I had a good pace, leading the race halfway through the stage. In the boiling temperatures I suddenly felt my feet getting hot, and I saw that my bike was burning. I jumped off and tried to extinguish the fire with sand, but I could not fight it, the bike burnt down completely. I am extremely disappointed, after all the hard work during the year to be out of the race in this way."
Joan Barreda: "At the beginning of the stage I lost some minutes due to problems with the fuel system, but I could catch up pretty good and found a decent speed and rhythm in the endless sand whoops. At the end of the stage it was very difficult to find the right way through various dry riverbeds, but I could manage quite well. Unfortunately a few km before the finish I had another a problem with the fuel system, and it took me valuable time to fix it and continue towards the finish. I am happy to be back at the bivouac after this tough day. At least I am still second in the overall classification. We are still in a very good position in the race and we will do everything the next days to assure a top result."
More Dakar photos: