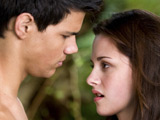 The final book in The Twilight Saga may need to be split into two movies before it makes it to cinemas.
According to Variety, Summit Entertainment studio executives are interested in splitting Breaking Dawn into two parts, in the same way that the last film in the Harry Potter series will be released.
It has also been reported that deals with Stephenie Meyer and principal actors Robert Pattinson, Taylor Lautner and Kristen Stewart will all have to be renegotiated so that they can film the two instalments back-to-back.
The publication confirmed that that is exactly what happened to all the major cast members of Harry Potter and the Deathly Hallows when Warner Bros. executives decided to release part one of that film in November 2010 and part two in July 2011.