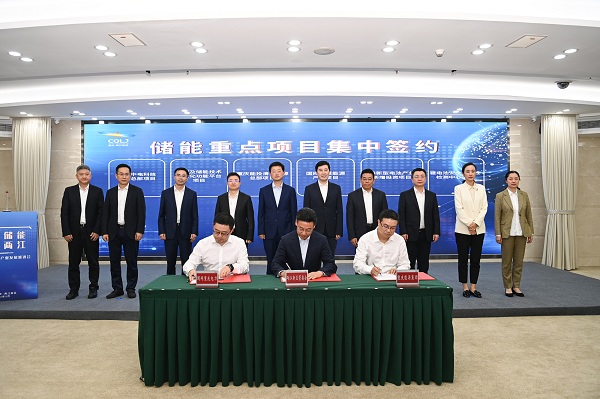 Representatives of the nine new projects attend the signing ceremony on May 18. [Photo/liangjiang.gov.cn]
Liangjiang New Area
in Southwest China's Chongqing municipality held an energy storage industrial promotion meeting on May 18, in which agreements for seven relevant projects involving a total investment of 10.9 billion yuan ($1.61 billion) were signed.
The advanced energy storage sector is significant in ensuring the stable operation of the power grid and solving problems related to new energy accommodation as it provides crucial technologies and basic equipment for the power system.
In a speech delivered at the meeting, Luo Lin, director of the new area's administrative committee, cited the importance of new projects in raising Liangjiang's innovative capabilities, increasing its business scale, and promoting the commercialized application of energy storage, which is expected to stimulate Liangjiang's low-carbon development.
The Chongqing new energy storage material and equipment research institute jointly invested in by the new area and Chongqing University will reportedly focus on energy storage materials, technologies and equipment. It will consist of six R&D platforms and one material research public analysis and testing center.
"An energy storage industry has taken shape in Liangjiang, and we will continue to make efforts in research innovation, industry development, demonstration applications and model innovation. In about three or four years, the new area will become a pioneer in the field," said Zeng Feng, vice president of Chongqing Liangjiang New Area Development & Investment Group Co.