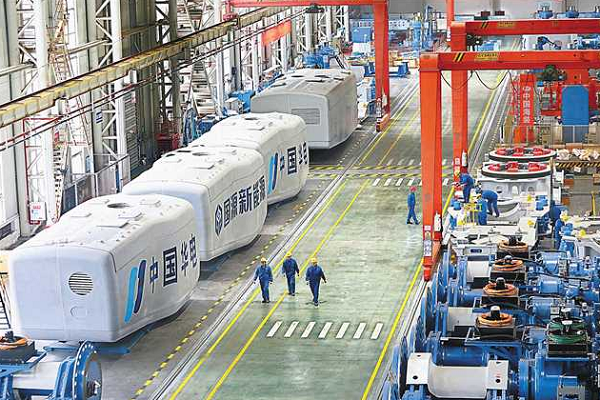 A view of a local workshop making wind turbine generators. [Photo provided to liangjiang.gov.cn]
It has now been 17 years since China State Shipbuilding Co (CSSC) decided that Southwest China's Chongqing municipality was to be the promised land for wind power equipment manufacturing - and to base new company CSSC Haizhuang Windpower Co there back in 2004.
The company is now a mature provider of wind turbine generator systems and enjoys handsome market shares, both domestically and globally.
Through years of strenuous work and development, the wind power equipment manufacturer has fully developed its industrial production and supply chain.
It now boasts an annual output value of 50 billion yuan ($7.5 billion) and has become a backbone of the whole industrial layout of the Liangjiang New Area in Chongqing.
But resting on its laurels is not an option, because it is never simple to build the massive wind turbines and make them function properly.
However, thanks to big data and artificial intelligence technologies, a large amount of energy, time and money is now being saved by the company.
New ways to respond to malfunctions
Given that the wind turbine generator systems made by Haizhuang Windpower are large in number and scattered all over the nation, it is impossible to send mechanics to the spot every time the turbines run into trouble.
Now, however, equipment breakdowns are no longer a headache. No matter where they are, every wind turbine generator system is now inspected by a central monitoring center and real-time data about malfunctions appears on a screen in the center's command hall.
In this case, engineers can respond to problems immediately and employ "tele-surgery" to the rectify the situation.
Positioning new wind farms fast and accurately
The question of where to position a new windfarm previously required weeks of measuring and calculating by the company, with engineers carrying heavy measuring devices from one place to another.
Now, an electronic map that displays potential locations has been successfully demonstrated on a 10-square-meter LED screen at the LiGa Big Data Center built by the company. With the device, all that's required is to nominate one likely site and all the variables such as land slope, local wind speed and other indicators pop up in seconds.
Cutting-edge technology supplants manual labor
These days, its intelligentized production line allow workers at the company to skip the onerous toil of the job, leaving it to industrial robots that have flexible arms to handle the 40-centimeter-long giant bolts that weigh more than 10 kilograms.
Previously fastening such bolts needed several workers to closely coordinate their movements, requiring care and precision to distribute them evenly, otherwise the bolts would suffer metal fatigue before their time.
In addition, big data also makes synergies possible for all enterprises involved in the wind power supply chain. The key is to establish a smart platform, in which upstream and downstream enterprises make breakthroughs by doing their own R&D, while having access to the big picture at the same time.