Spring is coming with us and a spring walk sounds tempting to most people, especially for those having spent the entire Spring Festival at home or at work. For a great promenade, there are several places in particular worth traveling to in the Liangjiang New Area in the municipality of Chongqing in Southwest China.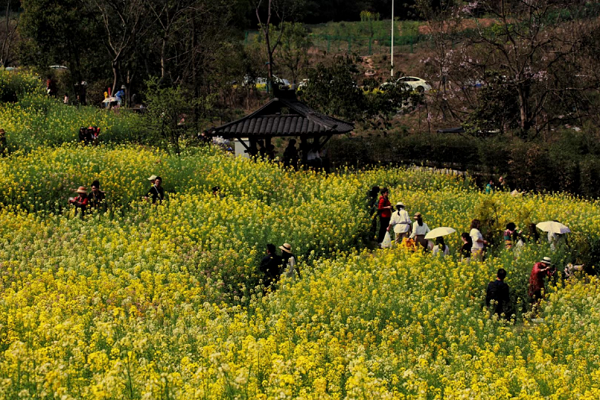 Funlovers stroll through swathes of bright yellow flowers. [Photo/liangjiang.gov.cn]
Liangjiang Blue Town•Arcadia
Yellow, orange and purple cole flowers in Liangjiang Blue Town•Arcadia are now in season, forming a wonderful landscape and attracting thousands of enthralled tourists and locals. People can take photos, sing or just appreciate the glorious sunlight.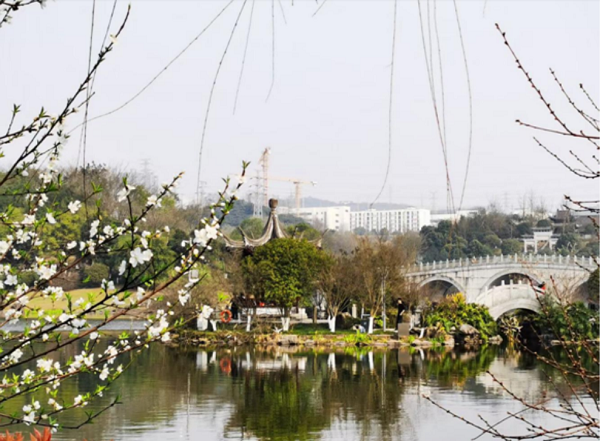 The clear surface of the lake in Chongqing Garden Expo reflects the pavilions, bridges and trees. [Photo/liangjiang.gov.cn]
Chongqing Garden Expo
As a 4A national tourist attraction and the first garden exposition in western China, the Chongqing Garden Expo offers intoxicating natural beauty and the chance for visitors to chill out. Garden styles of all parts of China can be seen in the mini-models at the expo.
Golden Gulf Park
The park was built along the Jialing River and is a popular place for tourists with kids, since they can play lots of water games and do a number of activities on the beach.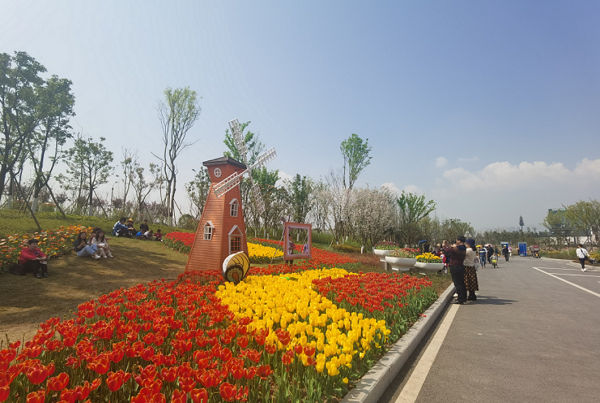 Visitors appreciate the vivid rows of tulips. [Photo/liangjiang.gov.cn]
Chongqing Liangjiang Coordinative Zone
Tulips, breezes and windmills are what the Chongqing Liangjiang Coordinative Zone is famous for. The zone is one of the most popular places to visit in the spring.
Lijia Smart Park
Lying at the foot of the Baiyun Mountain and besides the Jialing River, Lijia Smart Park boasts four ecological zones and smart applications. Equipped with many high-tech games and facilities, it is also considered as "a park of the future".