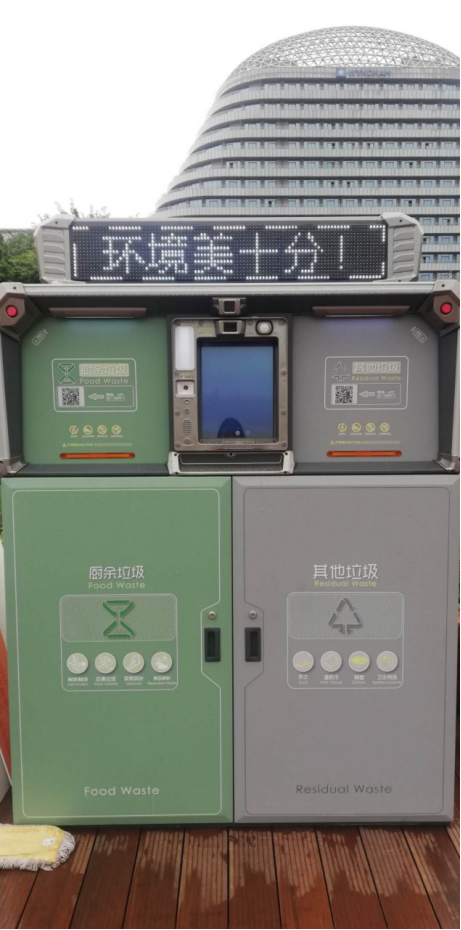 Intelligent trash cans are installed in Yuelai Binjiang Park in Liangjiang New Area. [Photo/liangjiang.gov.cn]
After 100 days of construction, Liangjiang New Area in Southwest China's Chongqing municipality recently completed upgrades on Yuelai Jiangwan Park, which is located along Jialing River.
The park has added seven sightseeing platforms and two covered bridges to integrate with Binjiang Park and Binjiang Road, forming a multi-level traffic system with sidewalks, slow lanes, multi-floor sightseeing platforms and sightseeing roads.
Blue jacarandas, Chinese redbuds, cherry blossom trees, muhly grasses and bougainvillea were chosen as border foliage in the park to highlight the beautiful sceneries in different seasons.
The park has also provided a beautiful night view for citizens by arranging landscape lighting and safety warning lighting according to landforms and sceneries.
Citizens can find intelligent facilities in the park, including solar energy benches with Bluetooth, Wi-Fi and charging functions, as well as smart trash cans that automatically open when they sense garbage and feature red warning lights when full.
In the future, Chongqing Yuelai Investment Group Co, the park's developer, will build more riverside leisure areas and footpaths to connect sightseeing spots along Jialing River, add more intelligent facilities and create cycle pathways in some areas.