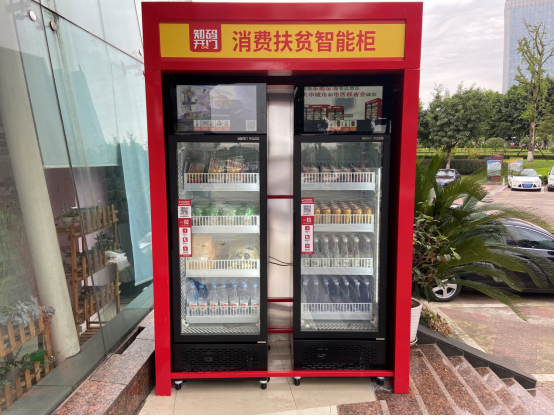 Locals can now buy products produced at poverty-stricken areas. [Photo/liangjiang.gov.cn]
Liangjiang New Area – in Southwest China's Chongqing municipality – recently introduced an innovation in its campaign to eliminate poverty by installing 36 vending machines at several locations, to sell products from poverty-stricken areas.
It is another attempt by Liangjiang to think outside the box when it comes to new measures to lift people out of penury, in addition to an online sales platform and a commodity fair.
The vending machines automatically charge customers after they choose the products and close the door. They also control the temperature to keep the products fresh.
Since the start of the year, Liangjiang has organized various commodity fairs to promote products from poverty stricken areas and made progress boosting the incomes of the poor.
Moving forwards, Liangjiang plans to set up more vending machines at sub-districts, communities, markets and in companies to attract more spending, while ensuring product quality and reasonable prices.