The four-day Chongqing Cultural Industry Expo concluded at Chongqing International Expo Center on Sept 17, attracting more than 400,000 visitors and merchants from ten foreign countries to achieve a total transaction value of 170 million yuan ($26 million).
Chongqing's culture, a featured highlight of the expo was showcased through the staging of the Banan district's ancient town at the exhibition pavilion, bringing the taste of local tea-drinking customs, special snacks and folk song performance for visitors to enjoy.
Li Guanglian, a 40-year-old snacks shop owner, sold more than 400 packages of roast dried bean curd each day in the pavilion during the expo.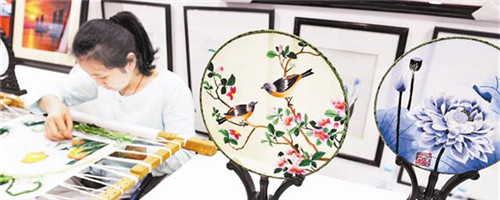 An embroider from Fengjie county in Chongqing showcases her skills during the Chongqing Cultural Industry Expo. [Photo by Xiong Ming/Chongqing Daily]
According to the expo organizing committee, the well-designed exhibition pavilion and booths showed strong local color, not only attracting visitors but also promoting local tourism.
Rongchang Xiabu (a type Chinese linen), folding fans and pottery products were also presented among Chongqing's intangible cultural heritages. Other cultural products using advanced technologies, such as virtual reality (VR) glasses and robotics, also amazed expo visitors.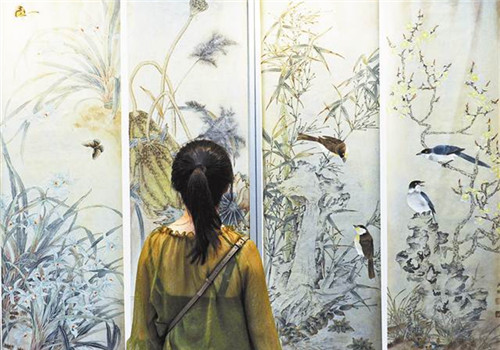 A visitor enjoys a traditional Chinese painting exhibited during the Chongqing Cultural Industry Expo. [Photo by Xiong Ming/Chongqing Daily]
"The Chongqing Cultural Industry Expo is an important cultural brand, and in the future will become a colorful platform integrating communication and trade," said Qin Qiwen, a professor from Southwest University.
Chongqing's cultural industries have been booming in recent years. The amount of cultural and creative companies in Chongqing numbered 100,000 in 2016, bringing the city an industrial value of 61.5 billion yuan ($9.4 billion).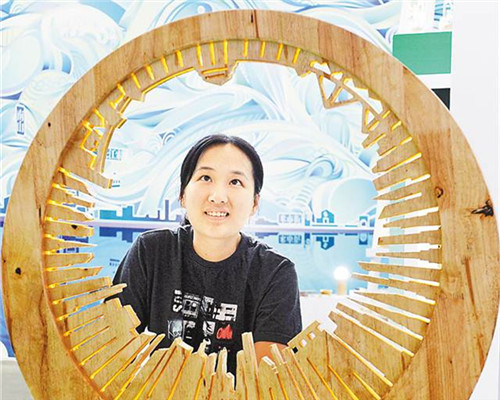 A visitor examines a wooden sculpture at the Chongqing Cultural Industry Expo. [Photo by Xiong Ming/Chongqing Daily]
Edited by Zachary Dye