The Liangjiang Yufu Investment Company signed an agreement with the People's Hospital of Jiangbei district on July 21 to build a hospital branch in the Liangjiang New Area's Yufu Industrial Development Zone.
The new hospital will cover a total construction area of 60,000 square meters and be equipped with 450 beds.
The hospital will feature an emergency department, outpatient department, medical laboratory, inpatient department, physical examination center and rehabilitation center. A parking garage, canteen, bathrooms and landscaping will also be constructed.
The Yufu Industrial Development Zone has a population of more than 100,000 and is rapidly seeing an increase of residents as four automobile companies, including Chang'an Automobile, Beijing Hyundai and SGMW, have opened new factories in the area.
The new hospital will ease the shortage of medical professionals in the local area.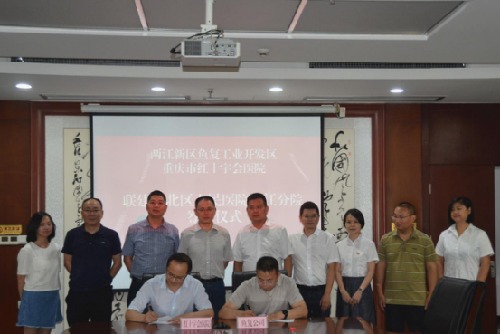 The Liangjiang Yufu Investment Company signs an agreement with the People's Hospital of Jiangbei district on July 21 to build a hospital branch in the Liangjiang New Area's Yufu Industrial Development Zone. [Photo/liangjiang.gov.cn]
Edited by Zachary Dye