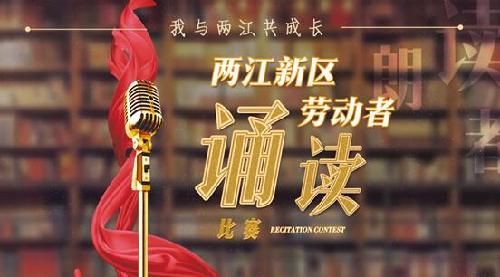 Liangjiang New Area holds a reading contest inviting citizens to read stories about the development of Liangjiang. [Photo/liangjiang.gov.cn]
Liangjiang New Area is to have its own Readers program. It will hold a reading competition, inviting the citizens to read stories about the development of Liangjiang.
Readers is a TV talk show that airs on China Central Television (CCTV) each week. It invites people from all walks of life to read their favorite poems, essays and books and talk about their life stories. The show has renewed enthusiasm for literature among viewers across China.
Taking advantage of that interest, Lijiangjiang plans to invite the citizens to express their love for the city, and tell their stories related to its rapid development.
The federation of trade unions and the publicity department of Liangjiang New Area are sponsoring the competition.
Groups or individuals are required to read aloud works that conform to the subject, either by others or themselves, and submit the videos or audios by email before May 15. After judging by ballots on Wechat and a jury of experts, ten competitors will stand out, and will be entered in the final on May 24.
Scores will be given according to content, language competence and gestures, and awards will go to the best reader, performer and story-teller.
Notably, in celebration of Labor Day, eight representatives ranging from doctors and teachers to manual workers are to perform in groups to show the impressive links between laborers and Liangjiang.
"I have handed in a recording, and I plan to write another poem with my classmates about Liangjiang's past glories, present progress and expectations for the future," said Shi Xin, a postgraduate from Southwest University of Political Science and Law who was born and brought up on this native soil.
"I put my personal experiences during my entrepreneurship with my husband in the past three years in a poem," said Meng Changqiong, who participated in the activity with her daughter and husband. "I hope to encourage young people with my determination."
Edited by Peter Nordlinger