Tell a Chinese person you are headed to Chongqing and they will undoubtedly insist you sample the city's most iconic dish–hotpot. The cauldron of flavor, which formidably combines spice, numbness, fragrance, and heat, derives much of its personality from locally produced hot pepper oil and related spices. However, contrary to local bravado, spice is not exclusive to Sichuan and a daring few have decided to import Indian red peppers to innovate the culinary classic.
In a first time move, a total of 14 tons of this Indian variant recently passed through Chongqing Lianglu Cuntan Inspection and Quarantine Bureau and is the first batch to do so, liangjiang.gov.cn reported on Feb 27.
With a total value of 266, 094 yuan ($38,640), the dry peppers, unquestionably the most important part of Chongqing's hotpot seasoning, have been imported by a local company from the Chongqing Lianglu-Cuntan Free Trade Port Area.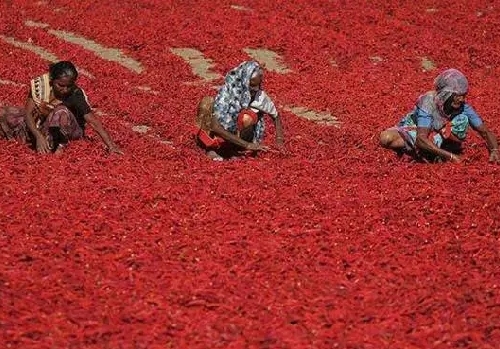 India is a country famed for its range of culinary delicacies based around spice and here Indian farmers allow red peppers to dry in the sun. [Photo/liangjiang.gov.cn]
The authorities anticipate the import leading to a trend of peppers arriving from the South Asian country on account of the rising prices of locally produced peppers. Additionally, many believe that the differences in spice and color will add to the allure of importing from India.
The voyage made by these brave chili peppers was nothing short of a logistical mastermind and it took a grand total of 45 days from start to finish. First, loaded trains ran from Hyderabad, located in southern India, to the east coast. Next, goods were transferred onto ships and delivered to Shanghai Waigaoqiao. Upon arrival in China, the peppers were placed onto river boats and sent up the Yangtze River before eventually arriving in Chongqing Cuntan Port.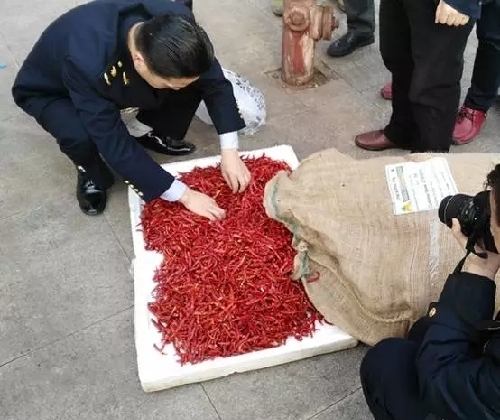 An official from Chongqing Lianglu Cuntan Inspection and Quarantine Bureau checks the recent arrival of dry red peppers in Chongqing Cuntan Port. [Photo/liangjiang.gov.cn]
Thanks to a novel mode of water transportation pioneered by the Chongqing Lianglu Cuntan Tariff Bonded Zone, cargos ships carrying freight such as fresh agricultural products and other time-sensitive products are allowed to be shipped to Chongqing at a low cost.
This development is rapidly changing the type and quality of goods arriving in the city and a president was set on Dec 22, 2016, when 13 tons of fresh beef arrived in Chongqing Lianglu Cuntan Tariff Bonded Zone from Australia. The continuation of the policy and the ambitions of local businessmen will ensure that Chongqing's opening-up and economic development thrives.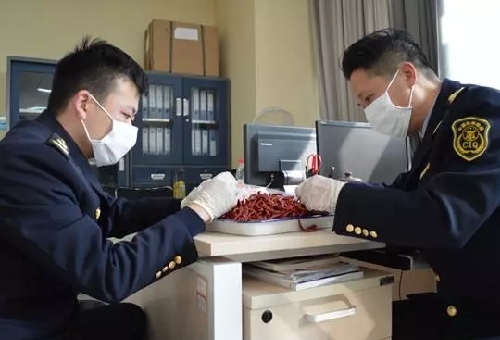 The imported dry red peppers are inspected by officials from Chongqing Lianglu Cuntan Inspection and Quarantine Bureau. [Photo/liangjiang.gov.cn]
Edited by Richard Whiddington