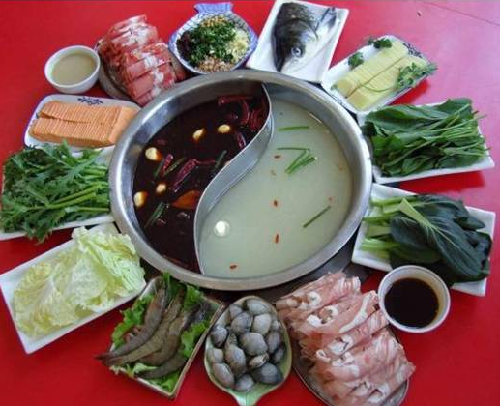 Hotpot is the most famous (and most popular) dish in Chongqing. Chongqing local people consider the hotpot a local specialty, but now people all over the world can enjoy this uniquely Chinese dish. [Photo/liangjiang.com.cn]
Just imaging a group of foreigners sitting around a hotpot with knives and forks in their hands is both exciting and entertaining for citizens in China's western mountain city of Chongqing.
The first batch of 1,200-kilogram Chongqing hotpot seasonings passed export inspections and arrived in South Korea, according to Chongqing Lianglu Cuntan inspection and quarantine bureau on Dec 8.
These hotpot seasonings were produced by local companies from the Chongqing Lianglu-Cuntan Free Trade Port Area and exported for the first time. Under the guidance of Lianglu Cuntan inspection and quarantine bureau, these companies applied the Hazard Analysis Critical Control Point System to strictly control the products' quality.
Another Liangjiang New Area company, Chongqing Qinma Food Co Ltd, also exported 992-kilograms of compound seasonings of nine kinds to Canada thanks to the high demands for hotpot seasoning there.
Thanks to the efforts of Lianglu Cuntan inspection and quarantine bureau, which guarded the products' quality and standardized the label and package of exported products, hotpot has entered the worldwide market and won promising sales for the companies.
Edited by Jacob Hooson