Rain water is one of the world's most wasted natural resources. Not only has rainfall been wasted the South China municipality of Chongqing, it has also been the trigger of series of catastrophic floods in recent years.
In the summer of 2010, vehicles floated down streets in the city after some of the heaviest rains on records cause widespread flooding. While in 2014, similar floods caused residents to come out en masse to enjoy a spot of fishing.
This summer, while much of China experienced its worst flooding in 20 years, Chongqing hydrology authorities warned that the water level of 16 rivers in the city exceeded their warning level.
However, the tables seemed to have turned in the city, as Chongqing Daily reported on Nov 3 that rainwater from a week-long downpour in Yuelai New City had been drained, thanks to measures taken as part of the "sponge city" project.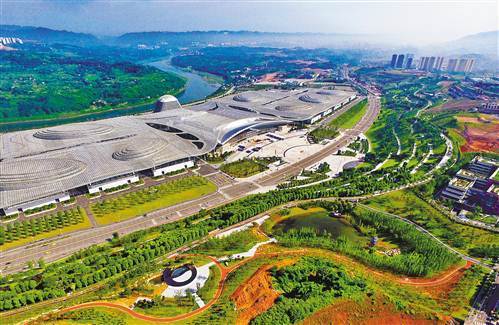 The sponge areas in Yuelai New City of Liangjiang New Area, pictured above, were constructed in 2015 and have already benefited Chongqing. [Photo/liangjiang.gov.cn]
The idea of "sponge city" was introduced by President Xi Jinping as a new was to tackle water wastage and flooding. Following the philosophy of "solving a city's problem with its own resources," the concept allows for plants and well-designed pipelines to act as sponges to store large volumes of water, rather than draining it off.
China's central authorities announced 16 cities that participated in Sponge City pilots in April, 2015, including Wuhan, Chongqing, Xiamen, Zhenjiang and others. Over the next three years, the pilot cities will install low impact devices to collect and use 70 percent of rainwater.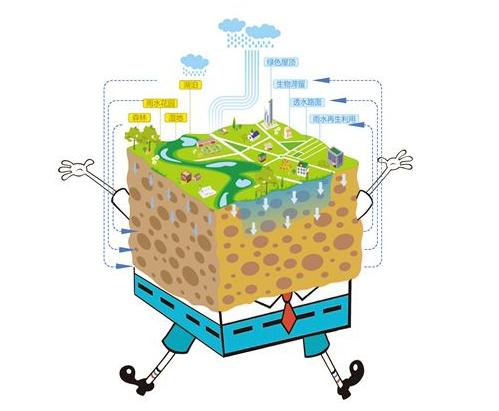 Sponge cities incorporate vegetation into the urban landscape and include well-designed sumps, canals and lakes capable of storing large volumes of water under the Earth's surface. [Photo/Chongqing Daily]
Yuelai New City sits far out of Chongqing, on the last stop of Metro Line Five in a huge new development directed by the central government called Liangjiang New Area.
Yuelai New City is the first district in Chongqing to undergo the construction of sponge squares and areas. Its sponge project in Yuelai Convention and Exhibition Park is now in operation and the spongy area will soon expand to cover the Yuelai International Expo Center.
The city has designed a network of canals, ponds, lakes, and wetland parks to distribute water throughout the development. Soft and springy pavements which can absorb water immediately have been built everywhere in the area. Some permeable parking lots have been covered in gardens, with bushes separating each parking space rather than painted lines.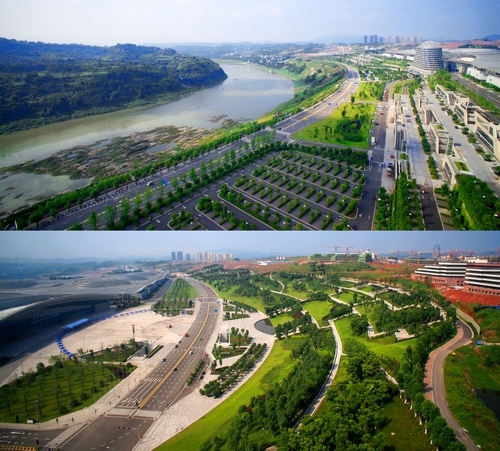 Pavements which can absorb water immediately and permeable parking lots have been built everywhere in the Yuelai New City in Chongqing. [Photo/liangjiang.gov.cn]
With an investment of 4.2 billion yuan ($620 million), the Yuelai spongy project will cover an area of 18.67 million square meters
Chongqing aims to expand the sponge area to 80 percent of the city to reach the standard of becoming a spongy city by 2030.
A spongy city will be a smart city, and in the long run, spongy cities will reduce carbon emissions and help fight climate change. The idea of green cities will rule in the future and sponge cities will be part of it.
Edited by Jacob Hooson