The first Returnees Chongqing Service Trade Innovation Incubation Park launched in the Yubei district of Chongqing on July 26, with more than 20 companies settling down in the area.
Designed to attract Chinese who have recently returned from work or study abroad, the program provides an incentive policy of 30 to 40 percent reduction in taxes as well as subsidy and grant opportunities for new businesses.
Located in the Xinpaifang business circle, the park mainly incubates businesses focused on a wide variety of industries—modern services, import and export trade, technology, financial services, cultural innovation, commercial design consultancy, and information software.
The park has set an admission standard for perspective companies, which designers hope will lead to stable and healthy development. Companies that pay less than 10,000 yuan ($1,500) in taxes every month or are found guilty of tax evasion will be forbidden from entering the park.
The incubation park was jointly built by Expert Committee for China Association of Trade in Services, Commerce Bureau of Yubei District, and Chongqing High-tech Innovation Incubator Co. It is expected to foster several well-known companies of modern service trade and increase trade volume by $500 million a year.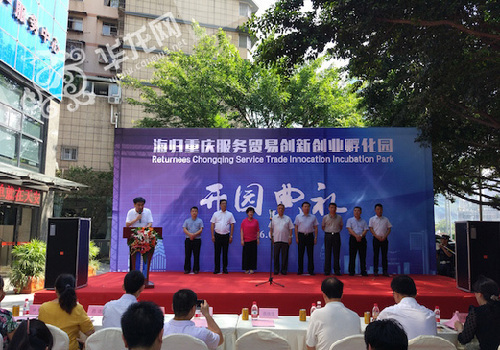 Several speeches were given during the opening ceremony of the incubator park. [Photo/liangjiang.gov.cn]