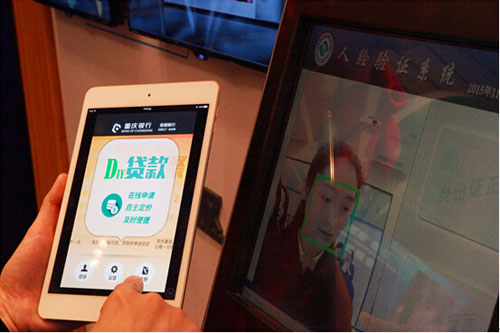 A customer uses a face recognition system to access a DIY loan service from Bank of Chongqing. [Photo/liangjiang.gov.cn]
Bank of Chongqing installed face recognition technology on Nov 16 to tighten up security vulnerabilities and better verify customer information, according to the Liangjiang administrative committee.
Bank of Chongqing is the first bank to adopt the face recognition system (developed by Cloud Walk) in China's Southwest region. The technology will be used in services relating to resetting passwords, withdrawing cash and DIY loans.
In the next phase of upgrades, Bank of Chongqing will construct an intelligent Internet finance platform. It will include the Smart Automatic Teller Machine (ATM) service to provide more convenient and safer financial services.
Cloud Walk Technology Co was established in the first half of this year. Its technical team is from the Chongqing Institute of Green and Intelligent Technology of Chinese Academy of Sciences. As the only face recognition technical team in the Chinese Academy of Sciences, the team has participated in a number of key state-level projects in West China. Statistics show that Cloud Walk has taken a 30 percent market share in the face recognition technology industry.
A form of contactless biometric technology, face recognition technology is playing a significant role in the innovative development of the Internet finance industry.
To support the development of innovative enterprises such as the likes of Cloud Walk, Liangjiang New Area has established a special fund to support innovative research.
Edited by Jacob Hooson