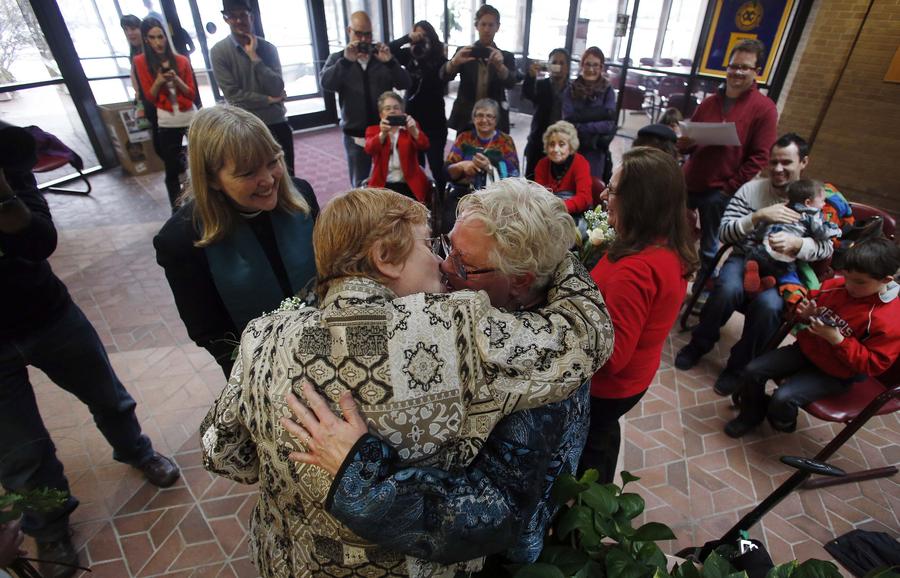 Andrea Dahl (L) marries Coral Mangus, her partner of 25 years, at the Salt Lake County Government Building in Salt Lake City, Utah, December 23, 2013. Same-sex marriages were allowed to proceed in Utah after a federal judge on Monday refused to block his own ruling making gay marriage legal in the state. [Photo/Agencies]
SALT LAKE CITY - A federal judge has allowed gay marriage in Utah to continue.

Judge Richard Shelby on Monday denied a request by the conservative state that wanted to stop gay marriages until an appeals process plays out.

The same judge overturned Utah's ban on same-sex marriage Friday, ruling it is unconstitutional.

The ruling drew attention given Utah's long-standing opposition to gay marriage and its position as headquarters for the Mormon church.

Lawyers for the state quickly filed a request with the 10th U.S. Circuit Court of Appeals to put gay marriage on hold.

Hundreds of gay couples lined up Monday for a chance to get married. Clerks in several counties were issuing marriage licenses.

"We're going to do it until the judge says stop," said Kerri Nakamura, who was helping people process licenses.

The federal judge surprised one of the most conservative states in the US on Friday by ruling that the ban violates gay and lesbian couples' constitutional rights. More than 100 couples wed in the following hours as others cheered them on.

For now, Utah has joined California, New York and others to become the 18th state where same-sex couples can legally wed.

Utah is home to The Church of Jesus Christ of Latter-day Saints, one of the leading forces behind California's short-lived ban on same-sex marriage.

The Church of Jesus Christ of Latter-day Saints has said it stands by its support for "traditional marriage" and that it hopes a higher court validates its belief that marriage is between a man and woman.

Friday's ruling brought an angry reaction from Republican Gov. Gary Herbert, who said he was disappointed in an "activist federal judge attempting to override the will of the people of Utah."