"China Expeditionary Army" was an overseas troop sent by the government of the Republic of China to support the British army in fighting against Japanese fascists in Burma and defending China's southwest region during the Anti-Japanese War (1937-1945).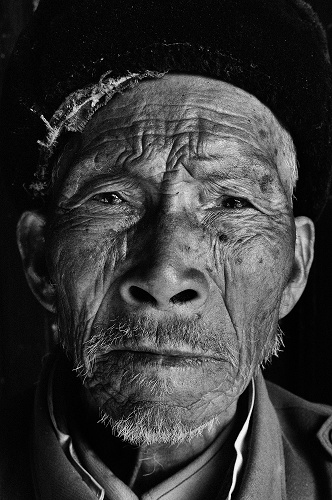 Cao Xingqi, born in 1919, bugle master of the 9th Regiment, 5th Brigade of Dianbian, is a veteran who had taken part in the Battle of Hekou. 
It was a shining example of China's cooperation with its allies in military affairs and gained many victories over the enemy. The veterans in the army were almost one hundred years old after more than half a century, with their whereabouts virtually unknown by the people.
Luan Shengjie, a 23-year-old photographer penetrated deep into Southwest China's Yunnan province and visited the area house by house. Carrying his camera, he recorded not only the faces but also the wishes of the old soldiers.
When he was a child, Luan had been particularly interested in movies and stories about the Anti-Japanese War. In 2009, he found a private charity online forum appealing to raise money for veterans who had fought against the Japanese enemies.
About 100,000 yuan was going to be meted out to 100 veterans in Yunnan, which aroused his curiosity to visit these honorable old men. He left Beijing and went to Tengchong, where most of the veterans lived.
Holding their personal materials he looked for them house by house and took photos one by one for about 20 days. "They were all pleased to be interviewed", said Luan, "When asked about their wishes, some want to go back home and get more donations to improve their living conditions, while the others are willing to serve the army if there are enemies again."
According to Luan, the veterans in the expeditionary forces generally distributed in China's Yunnan, Hunan, Guangxi, Zhejiang, Sichuan and Chongqing as well as Burma.
Among them the youngest is about 84 years old. There are no official statistics of the total number. Most of them are farmers and live in low economic lives. Luan took these pictures as portraits in order to make his work dignified and manifest the sanctity of the characters.
"Every face is a good story, a kind of mood. I want to express the national integrity and the noble spirit of the Anti-Japanese heroes in an objective way, and to leave the last faces of the veterans for the age."