"In the past three years, I often spent weekend nights in the spring and summer photographing frogs,snakes, insects and so on in remote mountains. Unconsciously, I have taken pictures of more than 20 different frogs in Ningbo, among which some are even newly recorded in Ningbo," -- Zhang Haihua, photographer from Ningbo, Southeast China's Zhejiang province.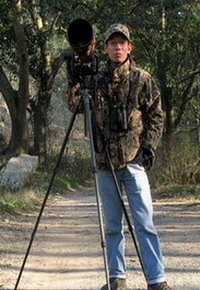 Zhang Haihua
Q: How did you get into the field of photogrphing wildlife?
A: I got into photography in 2003. Initially, I shot anything, just like an ordinary enthusiast. But at the end of 2005, I became interested in photographing birds after pictures I took of large flocks of sparrows in suburban fields were published in newspapers. At the beginning of 2006, I joined the Zhejiang Wild Birds Association on someone's recommendation. Since then, I've got to know many enthusiasts of wild birds photography, and fell in love with shooting birds. Since then, I've never looked back.
In the past three years, I've read a lot of works on natural science, and began my interest in taking photos of other species, and tried some unusual ways of photography, such as shooting photos at night.
Q: What's the biggest challenge you've ever met ?
A: Challenges for me come from two sides. First, the limited time available. A huge proportion of time has to be spent shooting in the wild. In addition to time needed for shooting, we have to spend additional time exploring and searching. So, to someone like me, time is quite limited as I can only shoot on weekends or holidays. Second, in this country, ecological conservation has not been given enough attention. In the past, there were many places with a great ecological environment, but now it's facing great pressure from development. And, at some places, we were no longer able to shoot photos.
Q: Can you recount a story that made a deep impression on you?
A: During my annual leave this July, I took a long journey to Xishuangbanna. One night, I captured the reproductive process of Reinward's Flying Frog (a distinctive species with a small population) near a roadside pool on the edge of a tropical forest. It was midnight, after a rainfall, and I found a female frog resting on a leaf. Nearby, there were a lot of male frogs moving around. At that moment, I had a hunch that a "show" was about to be put on. Just as I'd expected, after roughly 20 minutes of waiting, three or four male frogs closed in, in an attempt to hug the female and complete the reproduction process. The scene was messy, yet funny. After the in vitro fertilization, the female frog wrapped the leaf around her eggs. I thought that would be the end of the story, but a male frog seemed to come from nowhere and began to cling to the female, flirting around. But this time, the female showed no interest. Eventually, the late-arriving male frog could only leave in disappointment.
Q: What's your greatest expectation or plan for your future?
A: As to future plans, I want to build a relatively comprehensive film archive about the local (Ningbo) ecological resources, and gradually expand it to cover the whole province, or even the other places in this country. So that we are able to show the public those appealing films about nature through exhibitions, books, lectures and other different means. In this way, I hope that more and more people will actually care about nature and aboriginality.
Q: What advice to those young photographers who want to join this profession?
A: First, you should start shooting photos of local species in a down-to-earth way, and try to be a photographer and natural science enthusiast who cares about native soil. Second, you could first try to focus on one category, and once you've got more experience, you can then stretch to other categories. Third, read more and learn more about natural science, especially knowledge related to the photo-shooting categories of species. Moreover, you should try your best to make the photos you are shooting a combination of science and art.
Here are 21 wildlife photos taken by Zhang Haihua for our readers >>>