Recreation and fitness
Updated: 2011-07-12
Recreation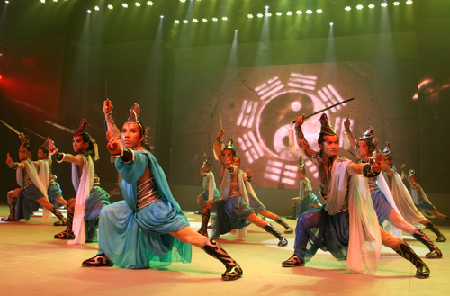 The music drama Tai Chi Wudang
The music drama Tai Chi Wudang
The music drama Tai Chi Wudang is performed year-round in Wudang's Grand Theater. Ane the stage play Tai Chi Comes From Wudang is under production and will also be staged in Wudang's Grand Theater.
The music drama Tai Chi Wudang was produced by the same team that developed the opening and closing ceremonies of the 2008 Beijing Olympic Games. The stage play Tai Chi Comes From Wudang is the creation of Chen Weiya, the deputy chief director of the same opening and closing ceremonies.
Wudang's Grand Theater covers a 4,000-square-meter area and cost 120 million yuan to build. It has a capacity of about 1,200 and has some of the world's best entertainment facilities.
Fitness
The Wudang International Wushu Exchange Center and Wudang Kungfu Stadium are large enough to host medium-sized sports events and other activities.
The International Wushu Institute is affiliated with Wuhan Sports University and mainly provides undergraduate courses, but also provides higher technical and vocational courses as well as short-term training courses.
It has several departments which include Wudang Wushu, Wudang regimen, Wudang Taoist music and Taoist medicine and expects to enroll students on the latter half of 2011.
The Tai Chi Lake scenic area encompasses an outdoor district and a forest-parking district. The outdoor district contains Wudang Mountain Kungfu City, the Lao-Tzu academy, Tai Chi Regimen Valley, Highland Sports Park, the Automobile Campsite, and the Bicycle Campsite, all of which are under construction.