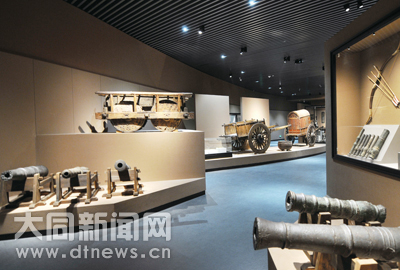 Ming - Qing dynasty exhibition hall, Datong City Museum, Shanxi, on Dec 25 [Photo by Rong Yuren/dtnews.cn]
The city of Datong, in Shanxi province, which dates back 1,500 years is rearranging its relics in the new City Museum in different halls by historical periods. The city played quite an important role during the Ming (1368-1644) and Qing (1636—1912) dynasties and there is an exhibition hall devoted to that, with wood structures from old Datong at the entrance of the hall, streets and lanes winding into each other, row upon row of pavilions, temples and other buildings, and the city walls to give visitors a good look at its history. It was a key military town, so the museum has military facilities from the last millennium, and eight cannons made of either bronze or iron, different sizes of guns, and five grenades made of ceramics. Historical records show that there were 13 military garrisons here during the Ming, with around 83,000 soldiers and 36,000 horses, who left behind a generous legacy.
The city was also a transport hub linking China to Mongolia and a center in the Sino-Russian trade, and prospered greatly during the Ming and Qing, so another part of the hall is for civilian life with well-decorated carriages, objects from old shops, and other items. Records report a horse market, in 1571, that sold at least 1,370 horses in one year. It was also famous for its bronze, with dozens of bronze shops along a single street during the Ming. Other items worth seeing are the Qing furniture and ornaments, Ming clothing, colored glazes, and decorated screens.
Edited by Roger Bradshaw