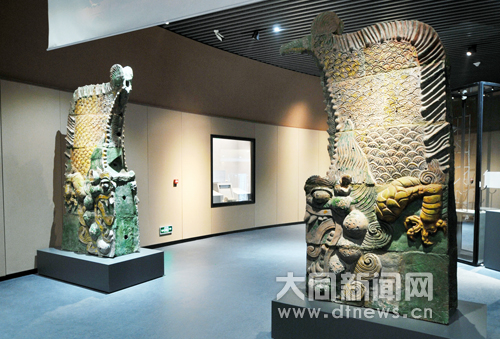 Pair of Buddhist stone carvings form the Huayan Temple, at City Museum, Datong, on Dec 24. [Photo by Rong Yuren/dtnews.cn]
The city of Datong, Shanxi province, played a vital role in Chinese history after the Northern Wei Dynasty (386-557), during a glorious period, and its City Museum intends to make sure the public know this, by assigning its entire exhibition space to that age and more than 700 years of prosperity, from the Tang (618-907) to the Yuan Dynasty (1271-1368).
The name Datong first appeared during the Tang when an army group, the "Datong Army", came to use the site as a garrison. So, the exhibition tells this and other stories with relics discovered inside the city limits. One outstanding piece is a pair of stone carvings of animals from Buddhism, 3.3 meters in height, from the city's Huayan Temple, made during the Liao Dynasty (907-1125). There are many rare articles with historical and regional features, such as mirrors, jade ware, ornaments, and weapons on display.
The museum also has a collection of architectural models, showing the details of both the exterior and interior of ancient buildings, with miniatures of Huayan Temple, Shanhua Temple from the Tang, and the Wood Tower of Ying County from the Liao.
Museum staff members say they believe it was necessary to hold this kind of exhibition because, from the Liao to the Yuan, the city was an important military and cultural center for North China, and a melting pot of various ethnic groups, where nomadic people faced military confrontations with the Han, adding more layers to the city's culture.
Edited by Roger Bradshaw