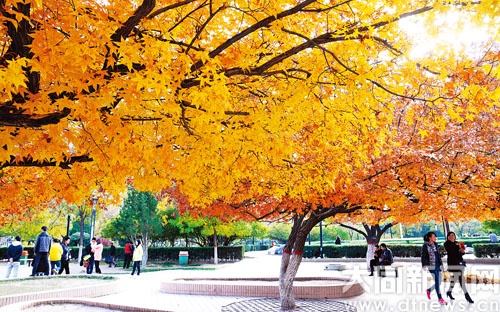 Locals enjoying the leisure feeling of the maple garden in Datong, Oct 22. [Photo/dtnews.cn]
The city of Datong, Shanxi province, has many places for its people to enjoy on an autumn outing, now that the season has painted the city a wonderful color, for example, Kouquan Botanical Garden, or Jinhua National Mine Park, or the Ecological Park of the Yu River, Wenying Lake Ecological Park, and the National Volcanic Cluster Park, just to name a few of the places for a short trip.
These parks are covered with vegetation, with different arrangements and are photographed by many visitors who then post the photos online, attracting even more visitors. Some recent visitors have even provided travel tips online to share their experience with others.
If you're looking for some rare species, then the Kouquan Botanical Garden is the place to go, with its local and imported species, arranged in different shapes. If it's an eco-landscape in the post industrial age that interests you, then Jinhua National Mine Park is for you. Standing up on a high platform brings the entire city landscape, including mountains and lakes, within view.
And, if it's natural wonders, well, these can be found in the volcanic cluster, a geographic park with contrasts not seen in daily life. One man, who took his family to the volcanic site last weekend, said that the forest there has more colors in autumn, especially in the gorge area, and the volcano is more splendid with so many bright colors.
If you don't want to wander too far, you can always go to the ecological parks of Yu River and Wenying Lake near the city center. These have visitors coming and going all the time, from early morning until after dusk. People like to spend their time sitting on a park bench by the lake or leisure activities with family members, or taking photos when they encounter the stunning scenery.
The five parks are certainly a visual feast of nature, which will definitely improve your autumn.
Edited by Roger Bradshaw