Tourism officials in Datong, Northern China's Shanxi province, are promoting the Datong Great Wall.
The section passing through Datong was built during the Ming Dynasty. While the segment of the Great Wall, together with its surrounding historical sites, is well preserved, local officials don't believe it has earned the reputation it deserves.
Currently, the area lacks accommodation for visitors, engaging historical and cultural exhibitions, and auxiliary facilities for travelers. These resources need to be developed.
According to tourism officials, abandoned homes in the villages alongside the Great Wall can be turned into guesthouses and lavatory facilities. Local villagers can also benefit from providing food services to tourists. Tourism officials researching the area will help local villagers develop tourism.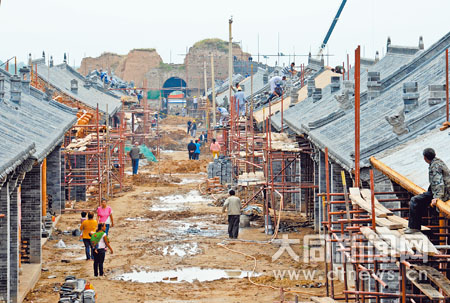 The construction site of Zhenbian Fortress and the ancient town at the foot of Datong Great Wall in July.[Photo/dtnews.cn]
Zhenbian Fortress is an outstanding historical site along the Great Wall, first built for civic use in 1442 and later used by the military. The Shanxi government has asked experts and construction teams from the Ancient Architecture Research Center to restore the fortress and the ancient town at the foot of the Great Wall. Upon completion, the area will have a large tourist capacity.
In addition, the windmills on the mountains surrounding the Great Wall make for a great touristicscenic zone.