The renovation of Yongle Palace in Ruicheng, Shanxi province, was in full swing. The palace's mural supervision and fireproof project reconstruction are approaching completion, while the renovation of ancient buildings and the overall layout of the palace have sped up, according to the administration unit of Yongle Palace.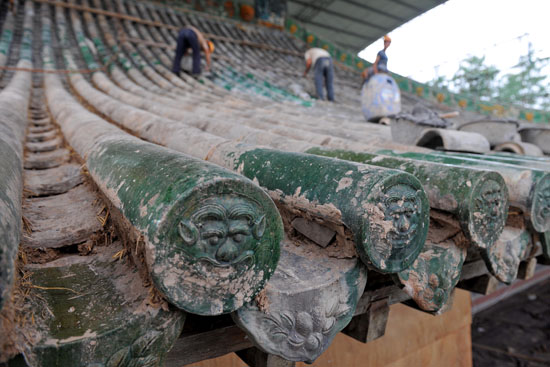 Workers are busy restoring the roof of Yongle Palace's Sanqing Hall, Shanxi province, on August 5. [Photo by Zhan Yan/Xinhua]
Yongle Palace is located in the county of Ruicheng, Shanxi province. The construction of Yongle Palace was first started in the early Yuan Dynasty (1206-1368). At present, it is the most ancient and intact Taoist temple, and also the largest Taoist temple in China. The palace is known for its ample amount of exquisite murals painted on the interior walls of its four main halls. It was selected as a major historical and cultural site protected at the national level.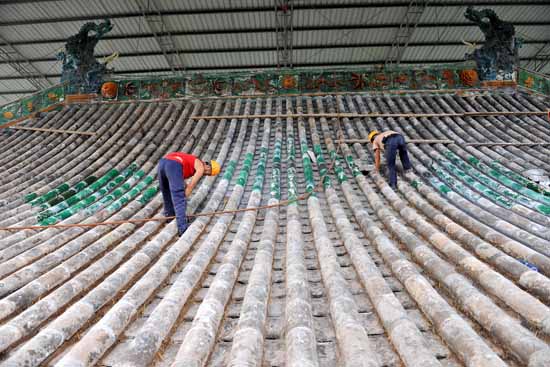 Workers are busy restoring the roof of Yongle Palace's Sanqing Hall, Shanxi province, on August 5. [Photo by Zhan Yan/Xinhua]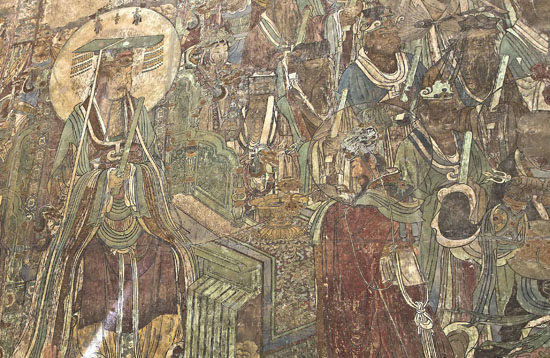 An exquisite mural on the interior wall of Yongle Palace in Shanxi province.[Photo by Zhan Yan/Xinhua]