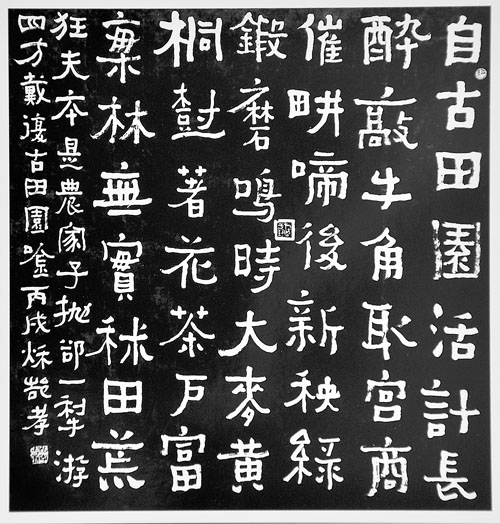 Gaoxiaoshu, a photograph of tablet inscriptions of the Northern Dynasty in Datong, Northern China's Shanxi province. [Photo/dtnews.cn]
Tablet inscriptions of the Northern Dynasty (AD 386-581) are one of the great historic and cultural symbols of Datong, North China's Shanxi province. They are also known as Pingcheng Wei Inscriptions because Datong was once called Pingcheng. Pingcheng was the capital of the Northern Wei Dynasty (AD 386-534) for about 100 years, after which the capital was moved to Luoyang, Central China's Henan province. Therefore, Datong, not Luoyang, is the original birthplace of Pingcheng Wei Inscriptions. It is a significant achievement in Chinese history of calligraphy.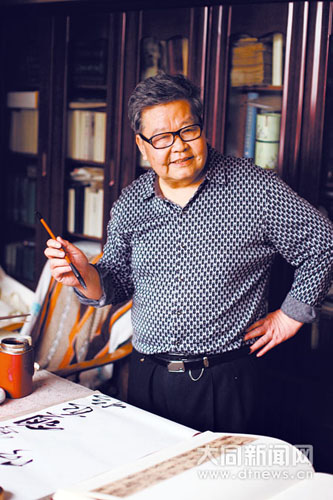 Yin Xian, a renowned Datong calligrapher, practices Wei tablet inscriptions as part of his daily routine. [Photo/dtnews.cn]
Yin Xian, a renowned scholar, calligrapher and poet born in 1943 in Datong, is a key figure in the historical studies of Pingcheng Wei Inscriptions. Two or three decades ago, many scholars falsely believed Wei tablet inscriptions originated in Luoyang, paying no attention or unaware of Datong Wei inscriptions. Under his persistence and rigorous research on the subject, Yin has finally corrected the mistake and established Datong tablet inscriptions' position in Chinese calligraphy development. He and several other scholars have written numerous books and academic papers on the subject. There is a special column devoted to Yin's papers on the earlier stage of tablet inscriptions of the Northern Dynasty in the No 4 issue (from page 36 to 138) of 2014's Chinese Calligraphy, the key magazine in the field sponsored by the China Calligraphers Association.
Yin's accomplishments have showed in both his calligraphy works and poetry. He graduated from the Chinese literature department of Shanxi University and taught in a local middle school at first. Later he became a government official. He has devoted himself to research on the ancient Pingcheng in Datong in both the relic sites and written documents. Historical buildings, ancient frescos, grottoes, tomb inscriptions, and palace ruins are all in his scope of study, and some of his archaeological discoveries even ranked among the top 10 national discoveries of 2005.
A factor contributing to his research excellence is his integration and elevation of archaeological, academic researches and calligraphy works composition. He locates each relic in academic studies of political, economic and cultural background from the Northern Wei Dynasty. He said that the tablet inscriptions and calligraphy were deeply rooted in society, politics and ethnic cultures at that time.
Yin has guided and attracted more people to study the history of the Northern Dynasty, and created a vibrant academic group. In addition, he has encouraged calligraphers of the younger generation to improve further.